Alumni
Linguist: Much Knowledge Is Encoded in Dying Languages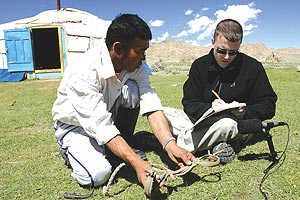 Linguists trying to save dying languages don't have pandas or polar bears to put on a poster and inspire people to want to save the endangered verbs. 
"If you put an Ojibway word on a poster, people won't say, 'Oh how cute.' They'll say, 'Who lay down on the typewriter?'" quipped linguist and one-time AU honors student K. David Harrison, now a professor, author, and subject of a highly acclaimed documentary.
Harrison, SIS/BA '88, addressed an honors symposium, "Saving Dying Languages: Why it Matters," followed by a screening of The Linguist, which features his work to save dying languages before the knowledge they encode is lost forever.
More than 7,000 languages are spoken in the world, over 80 percent of which have barely been documented, he said. Why does that matter?
By way of illustration, Harrison asked how many students in the audience spoke another language. Well over half raised their hands. "Well, then," he said, "you've encountered the translation paradox."
There are always words, phrases, and concepts that can't be translated with any satisfaction from one language to another. The surface meaning can be translated, but something at the core can be lost.
In part, he said, that's because "we have to care not only about the linguistic dimension, but about culture – not just what people say, but what do they care to talk about?"
Harrison is known for his concept of "language hot spots," areas with extreme linguistic diversity that contain many highly endangered and under-documented languages. The inspiration comes from the notion of biodiversity and connects with environmental concerns in other ways, as well.
For instance, most plant and animal species are not in the taxonomy. That doesn't mean people don't know about them or haven't categorized them into a conceptual scheme. It just means they haven't been fit into a Western scientific hierarchy. To understand other languages and how they treat their subjects is to gain potential insights into a wide scope of new topics.
"Most of what humans know is not written down anywhere," he said. "It's vulnerable — encoded in language — and we need knowledge of these languages to understand it."
Harrison is a professor of linguistics at Swarthmore College. He spoke on the panel with CAS professor Naomi Baron and honors program director Michael Mass. This year marks the 50th anniversary of AU's University Honors Program.