Athletics
Quotes: Lessons From the Field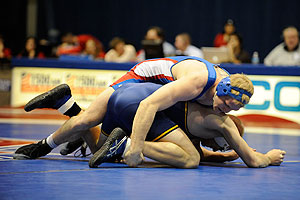 Our five student-athletes applied their knowledge from the classroom to the field - and vice versa. Here are some bits of advice they've gathered during their four years at AU.
Dor Yasur (Soccer): "Hard work leads to good results. The harder you practice, the better you play – just like the harder you study, the better you do."
Michael Cannon (Wrestling): "Never give up, always get back up, and keep fighting. If you apply that same mentality to anything you do in life, whether it be the classroom or the business world, you will be successful."
Nidhal Charf (Soccer): "It's important to build on what you did the previous day while continuing progress each day … Being part of a team and the necessity of good communication and working towards a common goal can also be applied to the group-oriented curriculum in Kogod."
Emily Stovicek (Field Hockey) discovered the importance of dedication: "I don't want to regret not doing that extra sprint or going to that extra Student Instructor session."
Colin Zizzi (Soccer): "Things don't always go as you plan. You have to admit to your mistakes, learn from what you did wrong, and focus on improving in the future."
Christine Fingerhuth (Field Hockey) says she feels fortunate to learn how to "deal with frustration and obstacles to figure out a way to surpass them [and] to work as a team or give our best individually."