Department Spotlight
Q&A With Pat Rudolph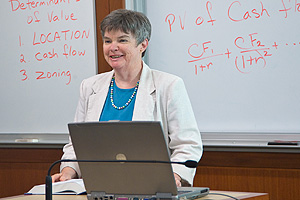 Patricia Rudolph was recently appointed director of the Master of Science in Real Estate program. Below, Rudolph shares her thoughts on how her industry experience will benefit students and her hopes for the MSRE program.
Why should a Real Estate professional choose the Kogod program?

PR: The Kogod masters' program offers an outstanding combination of a strong understanding of how real estate markets work, hands-on experience, and up-to-date skills with current industry tools such as ARGUS and COSTAR. The program consists of 30 credit hours, so a full-time student can complete the program in one year while a part-time student can finish in two years. Most of our classes are taught by full-time faculty rather than adjuncts, although we are very fortunate in having several real estate professionals who make wonderful contributions to the program. Plus, with a small program like ours, you get the opportunity to know your professors and the other students.
What does a graduate do with a Master of Science in Real Estate?

PR: Our students are prepared to work for real estate developers, property management and asset management firms and financial institutions such as Fannie Mae and Freddie Mac. Many of the students in the MSRE program already have real estate experience and see this program as a way to open new doors for themselves within their own firms.
You own a registered investment advisory firm. How does your industry experience translate to the classroom?

PR: After teaching finance courses for almost 30 years, opening my financial planning practice was an incredible learning experience. I now bring to the classroom a much better understanding of how all of the parts of business have to be integrated to get the job done. I had the skills to "do" financial planning but I had to learn how to run a financial planning business. Financial planning was only one part of my job – I had to market my business, make decisions about technology and implement those decisions, keep my records and books current, work on compliance and keep current with industry trends. It's a lot of fun running your own business, but it can absorb all of your time and energy if you are not careful.
In today's economy, what advice would you offer young real estate professionals, or those seeking to enter the industry?

PR: Be flexible in your search. This is a tough time in the real estate industry. The jobs available may not be your ideal. Maybe your dream is to be a developer, but none are hiring right now. Look for jobs where you can learn about different aspects of the industry. Be willing to take on the less glamorous positions in research and data gathering or property management that will give you a better understanding of the market and what tenants need in a building. When the time comes for you to be a developer, you will design and build better projects because of that knowledge.