Literature
A Storied Success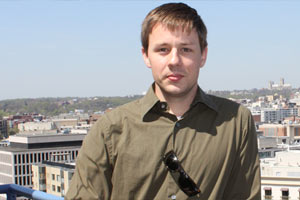 Last week, The National Society of Arts and Letters (NSAL) awarded David Scrivner, MA literature '08, first place in their Washington region short story competition. In addition to receiving a $4000 cash prize, Scrivner will represent the region in the organization's national competition in Clearwater, Florida, on May 20–23.
Scrivner won first place for a pair of short stories: "A Short but Thorough Analysis of Bridges in the Modern Age" and "Olive."
While at AU, Scrivner received the Department of Literature's award for Outstanding Academic Achievement. Since graduation, he has taught reading and writing in D.C. and Northern Virginia. He was named Adjunct Instructor of the Year in 2009 by Monroe Community College.
Founded in 1944, NSAL is a national non-profit organization dedicated to supporting the development of talented young Americans in six fields: art, drama, musical theatre, dance, music and literature. Members are engaged in the visual, literary or performing arts or are patrons of the arts.