In the Community
Students Learn Socially Responsible Investment Strategies at Site Visit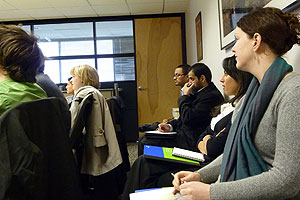 During a week when the world is especially focused on humanitarian aid, Kogod students visited an asset management company that's been investing in communities for years.
More than 20 undergraduate and graduate students attended a site visit at Calvert Investments in Bethesda on Wednesday.  Calvert Investments is an asset management company that heavily promotes corporate responsibility in the areas of human rights, climate change, diversity, and transparency issues.
American University's chapter of Net Impact, a national organization for business students interested in corporate social responsibility, organized the event.
Calvert CEO Barbara J. Krumsiek talked to the group about Calvert's role in the finance industry and shared her insights on why the company wasn't crippled during the financial crisis. She credited their success to their CIO's decision not to invest in subprime lending and other risky areas that contributed to the economic crisis.
The site visit was timely for several students who recently applied for competitive internship positions within Calvert's equities team. According to Human Resources Consultant Lauren Lefkowitz, there are currently 300 applicants for a small number of positions.
"I am attracted to Calvert because the firm has an unique investment approach which focuses on sustainable and responsible investing strategy," Frank Nguyen, MSF '10, said. Nguyen hopes to become an equity research associate in an asset management firm. "The discussion with Calvert's CEO reaffirmed my interest in working for the firm. People at Calvert take pride in what they do and truly understand the firm's values."
Stu Dalheim, Calvert's Advocacy Director, expanded on the different types of funds Calvert manages and how they use their investments to be an advocate for change.
The speakers also provided tips about job searches and how to stand out to a potential employer. Krumsiek stressed the importance of an applicant not only having the capability to handle the position, but also the willingness to be molded by their employer.
Dalheim said he is impressed when a job applicant asks bold but appropriate questions and provides his or her own insights. "I want someone who challenges us, but also shows that they have a solution," he said.
Finance Professor Ghiyath Nakshbendi accompanied the group after one of his students, Net Impact President Carla Kelly, invited him to attend.
"I think site visits are essential to get our business students out of the classroom and to emphasize the importance of speaking in public and asking questions," Nakshbendi said.
Next up: Net Impact is planning a marketing-focused site visit to the Bethesda-based beverage company Honest Tea.