On Campus
Kogod Welcomes New Students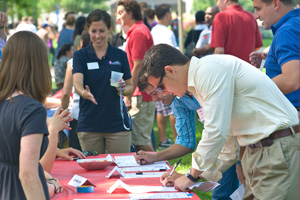 The Kogod School of Business welcomed new graduate and undergraduate students to campus with a week full of events sponsored by the K-LAB (Kogod Leadership and Applied Business). 
Over 70 full-time MBA students attended a four-day orientation program, which included a BBQ on the quad, student involvement fair, and mini-case competition.
At the culmination of orientation, alumni, students, faculty, and staff celebrated the start of the academic year with a reception in the new Kogod expansion student lounge. 

At the Kogod Academic Welcome faculty and staff greeted first-year undergraduate students to officially begin the year. Alumni speaker Trenton Marsh (KSB/BSBA '02) shared three lessons that each student should learn before graduating college:
Define yourself

Become a premeditated thinker and articulate your goals

Your life is the most important teaching tool for someone else.
Lawrence Ward, Associate Dean for Academic Programs, held up the Kogod Ledger, for the new freshman and transfer students and asked, "How will it feel to walk across the stage at graduation? When you sign the Ledger at commencement, I want each of you to feel like you made the best of your experience at Kogod." Each Kogod student is invited to sign the ledger at graduation to symbolically leave their mark at Kogod.
The class of 2013 also participated in Kogod Kickoff. This day of team building activities allows students to get to know one another, as well as their Peer Mentor and Kogod staff. Kogod Peer Mentors are upperclassmen that provide support for first-year students through social and academic programs.