On Campus
Audit vs. Tax? Accounting Month Reports Industry Opportunities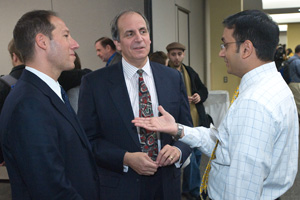 The Kogod Center for Career Development (KCCD) kicks off its 2009-2010 industry exploration series with Accounting Month this September.  Events throughout the month are designed to help students learn about accounting jobs that align with their career goals.
Students have the opportunity to learn about the culture of accounting organizations from the private, public, and government sectors.
The month begins with a workshop hosted by Kogod career advisors, sharing the secrets on what it means to be "150-credit ready," and tips for preparing for the CPA exam.  Students will learn how to effectively communicate with accounting professionals about internships or jobs if they are currently under the 150 credit hour requirement. 
Accounting day is the featured event of the month, co-sponsored by Kogod's Accounting Club.  The annual event includes an employer panel, career fair, and networking reception. 
"Students benefit greatly from speaking to accounting professionals at the career and networking fair," said Annie Genevish, KCCD Manager of Corporate Relations.  "This gives them firsthand insight into the type and size of firm that will fit them best after graduation."
Industry specific career fairs, like Accounting Day, allow KCCD to target the top employers in the field.  Additionally, alumni are invited to the networking reception and are also encouraged to attend the fair.  This is a great opportunity for accounting and taxation alumni to network with colleagues from their industry. 
The KCCD fall semester line-up also includes Finance and Real Estate and Information Technology industry months in October and November.