Alumni
Healthcare CEOs Headline Speaker Series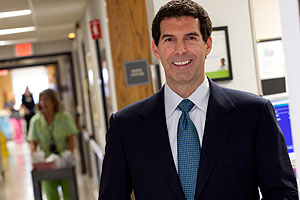 Kogod is pleased to announce that Paul Diaz, BSBA '84 and CEO of Kindred Healthcare, will kick off this year's Alan Meltzer CEO Leadership Speaker Series on November 17.
Diaz's speech is entitled "Curing America? The Business of Healthcare."
This year's focus on healthcare reflects the nation's attention on recently passed health reform legislation – which is still hotly debated, and will spell major changes for the healthcare industry. The first phase of changes to the nation's healthcare laws went into effect September 23.
Diaz will address how he is steering his Fortune 500 company through the changing regulatory landscape. Louisville, KY-based Kindred Healthcare is one of the largest providers of healthcare services in the U.S. with over 54,000 employees in 40 states and revenues in excess of $4 billion.
Diaz himself has been recognized as one of the 100 Most Powerful People in Healthcare by Modern Healthcare magazine, and Hispanic magazine named him one of the 25 Best Latinos in business.
Continuing with the healthcare theme, the Meltzer series' Spring speaker will be Merck CEO Richard Clark, MBA '70. Clark will speak on campus in March 2011.

Clark has dedicated more than 37 years of his career to Merck, which is one of the top pharmaceutical companies in the world. Prior to his appointment as chairman and CEO in May 2005, Clark held a range of management positions after working his way up from Quality Control Inspector, a job he landed in 1972.

The Alan Meltzer CEO Leadership Series brings top business leaders to campus to provide insight on business issues. The series is made possible through the generosity of American University trustee Alan Meltzer and other Kogod alumni.
The American University community is invited to hear Diaz's presentation on November 17 in the Kogod Student Lounge at 4 p.m.
The event is co-sponsored by the Graduate Business Association, Undergraduate Business Association, Black MBA Association, and Hispanic MBA.