Achievements
Beta Gamma Sigma Welcomes 43 Students to International Honor Society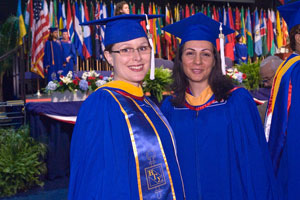 Forty-three students from the class of 2009 were inducted this past semester into The International Honor Society Beta Gamma Sigma (BGS).  Each year, Kogod recognizes its most outstanding graduate and undergraduate students with an invitation to become a lifetime member of the Society.  BGS is the highest academic honor that a business student can receive in a program accredited by the Association to Advance Collegiate Schools of Business.

Graduate students in the top 20 percent and undergraduates in the top 10percent of their class are invited to join BGS.  Members receive discount opportunities, activities and programs, career assistance, and become members of a network of over 580,000 members in 170 countries.
Kogod inductees were recognized at a special dinner and ceremony held this past month.  "Each year, I am honored to recognize our most outstanding students who have distinguished themselves by accepting membership in BGS," said Lawrence P. Ward, associate dean for academic programs.  "They embody what is so fundamental to the Kogod experience academic achievement and a personal commitment to integrity." Congratulations to all of this year's inductees. Kogod undergraduate inductees include,  John Arturo, Justyna Austin, Kenton Bartlett, Mario Beltran, Jennifer Bryer, Leah Burge, Han Chen, Adam Coile, Erwann Couesbot, Megan DeGraca, Thomas Davidson, Lauren Deromedi, Yi Duo, Anthony Edwards, Andrew Kerai, Laura Kuhns, Yuriy Kushnir, Christopher Liebner, Botagoz Muldagaliyeva, Stephen Nagle, Tram Nguyen, Julianne Niemaszyk, Laura Oslavicky, Karina Perelmutter, Lauren Renner, Andrew Scalise, Caleb Skeath, Sergio Soto Orozco, Katherine Turner, Suzanne Witkowski, Dimitar Yordanov, Alan Yu, and Jie Zhou.
Kogod graduate inductees include, Jonathan Abrams, Javaid Alim, Melissa Boulos, Matthew Brobson, John Butto, Allan Capon, Jennifer Cheng, Sheran Deng, Desmond Donaghue, Blair Eig, Steven Fistere, Jacqueline Gordon, Carl Harris, Bryan Hays, CaroLyn Jimenez, John Johnston, Lilian Ladd, Nicole Lamore, Bolling Leanne, Krissa Lum, Brian McConnell, Amir Mozayani, Chaitali Patel, Travis Patton, Kathleen Poorbaugh, Laun Qorri, Amir Rahbar, Kristen Reinhard, Thomas Sampson, Benjamin Schmidt, Matthew Sellers, Emily Smith, Sonya Starnes, Bhairavi Tripathi, Laura Valestin, David Villani, Zachary Vroman, Jason Weisbaum, Vanessa Yost, Yauheni Zamastsyanin, and Jing Zhang.