In the Community
PDI Hosts Colombian Journalists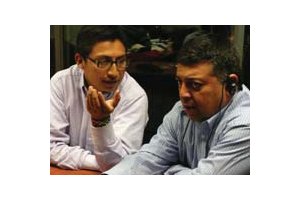 In November the Peacebuilding & Development Institute hosted twelve Colombian journalists to participate in a week–long training program funded by the United States Institute of Peace (USIP). The program was designed to provide journalists with the tools to report more responsibly on the conflict and peace efforts, as well as to allow the journalists to better understand the role that the media may play in peacebuilding efforts.
On the first day of the training, the participants attended a day–long skills training on conflict analysis and application.
The following day, they examined the role media plays in conflict situations and as potential facilitators in peace efforts. The following two trainings looked at conflict–sensitive journalism and the role of women and marginalized groups in peace efforts. Beyond formal training sessions, the participants were able to leave behind their roles as journalists in order to experience firsthand the perspectives of conflicting actors through two separate simulations. These simulations allowed the delegation to put into practice many of the conflict resolution concepts and skills discussed earlier in the week without the restricting internalized bias that shaped their perceptions of the Colombian conflict.
The local Washington, DC and American University community had the opportunity to meet with the Colombian journalists to exchange their experiences and to discuss the challenges all face in their daily work on several occasions throughout the week both formally and informally. They met with documentary makers and human rights advocates, and spoke to a public audience at the Kay Spiritual Center about the challenges of reporting on the Colombian conflict on the last morning of their stay in Washington, DC. This was the third training program PDI has held for journalists in the past two years.
For more information on PDI's Initiative for Media and Peacebuilding, contact Saji Prelis at saji@american.edu.
This article originally appeared in the Spring 2009 International Peace and Conflict Resolution Newsletter.