Achievements
Honors Program Welcomes 83 Freshman From the College of Arts and Sciences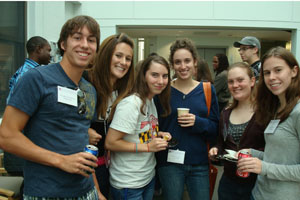 On September 16 at 3:30 p.m. in Battelle-Tompkins Atrium, the College of Arts and Sciences' Honors 101 Reception will welcome 83 CAS freshman into the university's honors program.
The afternoon will begin with opening remarks from Dean Peter Starr. He will be followed by physics professor Philip Johnson, literature professor Marcela Sulak, and economics professor Ellen Meade, who will provide students with a sense of what the College's faculty members offer to the program and briefly detail the Honors courses they teach. Students will also interact with their Honors mentors—fellow College Honors students who provide peer guidance to freshmen learning to navigate the program.
Currently, the College has 303 students enrolled in the Honor's program, comprising close to 30% of the program's total participants university-wide. Incoming students are asked to join the program based on a number of factors, including high school GPA and SAT scores. In addition, advisors encourage students with strong grade point averages during their freshman year to nominate themselves for the program.  
"By taking Honors colloquium courses with amazing CAS faculty like language and foreign studies professor Naomi Baron and literature professor Cynthia Bair Van Dam I learned that my academic interests spanned across many disciplines, all of which were in CAS," says Katie Young, a current student in the Ethics, Peace, and Global Affairs program who received a BA in Philosophy and Women's and Gender Studies from the College in '08, "These courses showed me that CAS was the place for me."