Research
Teacher Retention Research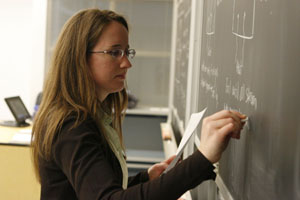 The primary mission of the Transitioning Our Provisional Stars program (TOPS) was to increase the number of highly qualified teachers in the District of Columbia, but it also generated important findings on retention rates of teachers who complete alternative certification programs.
In its evaluation of the seven-year, multimillion dollar program, the College's School of Education, Teaching, and Health (SETH) reported that TOPS graduates remained in teaching at dramatically different rates depending on their professional status entering the program. Recent college graduates who entered the 3-year program had a 58 percent chance of remaining in the teaching profession, while mid-career professionals remained in the classroom at a rate of 88 percent.
These data were based on the program's 208 participants from 2002–2009. Of these participants, 132 were recent college graduates and 76 were mid-career professionals.
These findings are helping SETH determine the most effective ways to recruit candidates for their additional alternative certification programs, including Math for America and the Capital Excellence program.  
"We know from other research that a key to long-term student success is retention of teachers. The revolving door effect in urban schools certainly doesn't help students in the long run," says SETH dean Sarah Irvine Belson. "During the recruitment process, we either need to find ways to help recent college graduates consider teaching as a long term career, or we need to focus our efforts on career-switchers.  
SETH is currently undergoing plans to follow-up these findings with additional research. 
Sponsored by the Department of Education, the TOPS program was created to train and place elementary education, English for Speakers of Other Languages (ESOL), and special education teachers in the D.C. Public School system. Over the course of three years, participants earned teaching certification in their specialized fields; 96 percent completed additional coursework to receive a Master's degree.