Achievements
Gayatri Murthy, School of International Service Speaker
"If indeed in Tennyson's words, 'I am a part of all that I have met,' then I can say that I have added layers to my education, and I graduate wiser, more enriched and more fulfilled because of you."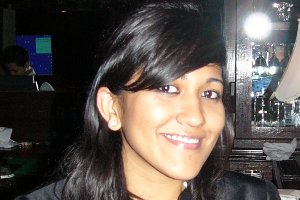 On behalf of all the Doctoral, Masters and Baccalaureate candidates in the graduating class of 2009, I would like to welcome President Kerwin, Dean Goodman, Provost Bass, John Prendergast, distinguished guests on the platform and in the audience and all the members of the faculty and staff to this Commencement Ceremony for the School of International Service.  I think I speak for all of us graduating today in especially welcoming our families, friends and loved ones who took the time out to be with us as we walk up to collect our degrees. Each one of you has played an important role in our lives and today we thank you for your love and support throughout this journey.

This journey at SIS has been one hundred percent a complete lifetime in itself, filled with classrooms and what lay outside them. I am sure as you sit here before me, you can look back at those endless nights in the library, that 6th cup of coffee at the Davenport and those blessed midterms with some fondness. And as this journey comes to a bittersweet, yet glorious end; and even as we continue to focus on our future in the world outside; today truly belongs to us. It is a day to celebrate our present success and also, where we have been these few years; to where we have arrived at this moment, and most importantly, to where we are about to go from here.

We have been in an incredibly privileged and rarified space. A typical SIS classroom is one in which truths often collide to reveal multiple realities, multiple ways of seeing. Every time that I thought I had made up my mind about any issue, a new perspective from halfway across the world or even halfway across the political spectrum revealed a nuance I hadn't thought about. And somewhere through the constant exposure to this melting pot of ideas, I began to look at international issues differently. The motive changed from acquiring this canon of knowledge that one ought to acquire; to truly engaging with the world and all its newfound complexities. In my life here, I have learnt that despite some encouraging changes in the recent past, we still live in a world where power collides with powerlessness and the cycle of inequity seems endless. But equally important was the lesson that if there is a solution, it must involve constantly observing, never looking away and always attempting to understand. I have learnt to understand my own world view, even my biases, but most crucially, to transcend these limitations. And since this moment, each class, each conference, and even many casual conversations have meant a step forward towards a true intellectual awakening.

But this has been far more than just an intellectual awakening. The SIS seal with its olive branches ending in clasped hands represents our school's goals of peace and understanding but, to me, above all, it represents friendship. My journey at SIS would have been incomplete without the men and women who taught me, who chose to study here with me and some of whom I can now call my dearest friends. As far back as I can recall, being in an SIS classroom or even at an SIS happy hour has always meant that I am in the company of the most diverse people on the outside, but if one looks within; truly all kindred spirits. It is an almost inexplicable disposition we all inhabit and exhibit. Something really does bind us, and I, as an international student can tell you this bond extends beyond all superficial differences and that it is worth traveling thousands of miles for. Today, we bridge all our gaps in geography, world views and life styles, and stand here as members of this very special club. If indeed in Tennyson's words, "I am a part of all that I have met," then I can say that I have added layers to my education, and I graduate wiser, more enriched and more fulfilled because of you.  

It must be this common spirit that drew us here in the first place. That spirit is beautifully captured in the name of our school itself; the School of International Service, where the spirit of Service will set us apart from the graduates of the various schools of international affairs, international relations or international studies. And now, as the time has come to move on, it is in this next phase of life that I hope we can all embody what our school stands for and make her truly proud of us.

I understand that our common spirit may nonetheless manifest itself in many ways. Some of us may become the policy makers in our respective government agencies, some of us may be advocates for the causes that drive us, and indeed, some will travel to the darkest corners of the earth and be a part of tangible change in someone else's life. But no matter what path we choose, and what vocation feeds our hungry hearts, I hope we will all go forth in the spirit of service.

Often times we undertake journeys in our lives that remain enmeshed in our minds; as a time when we were most deeply inspired, as a time when we lived on just our ideas and the passion that raged in our hearts; as a time when the darkest nights were made more bearable by the people who travelled with us; and in the end, as a time when we came through profoundly transformed. SIS has been all this and more to me. It will always be the symbol of an awakening, of belief, and belonging in my life. And today as I stand here before you, I truly hope that it has meant the same for you.  Thank you and congratulations.