Journalism
Alumna's on Career Fast Track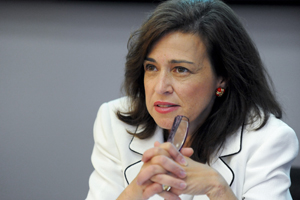 Tara Palmeri's career is on the fast track. Palmeri, SOC/BA '08, recently began working as a columnist for the New York Post's splashy Page 6, leaving her previous job with the Washington Examiner's gossip column, Yeas and Nays. 
Before graduating, Palmeri interned at Voice of America, which helped her secure a position at CNN after graduation. There she worked as an assistant in the D.C. Bureau on the assignment desk, "The Situation Room with Wolf Blitzer" and the political unit. Her other duties included pitching stories and producing and writing pieces for TV and CNN.com. After almost a year at CNN, Palmeri moved to Yeas and Nays where she worked alongside co-columnist and Nikki Schwab, SOC/MA '07.  
Palmeri says work at Page 6 is going well. "It's a similar job, I'm still writing a gossip column but in a different city." But there are some differences. In D.C. she worked as part of a two-person team, while in New York she's working with a larger pool writing more items each day.  
She says there are also differences in what makes a story. "In D.C., gossip is all about politics and connections to power. [In NYC] the themes are similar, it's just different players. Though I'm happy to bring some of the D.C. gossip to New York." 
Palmeri cites networking as one of the most important skills she learned at American University. "SOC is definitely a very practical career-orientated program that prepares students for the real world," she says. She put the skills she learned in class, including writing, production, and strategy, to use through internships. "Doing an internship is a great prep for after graduation."  
Public Communication professor Dotty Lynch says Palmeri was one of the most insightful students she has taught when it comes to figuring out what makes people tick. "In the spring of 2008 she was the first to articulate what made Barack Obama different from other political candidates," said Lynch. "'Obama is fun to read about. He is part of the pop culture. I know I am not supposed to say this, but he makes the gossip pages not just the editorials,'" she said. "And she was so right."