Student Life
Road Scholar: Diary of the Dallas Trip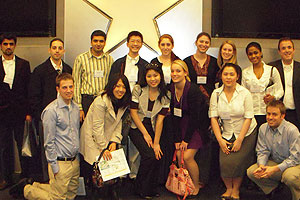 Undergraduate student Amy Chu worked with the Center for Business Communications to compose a complete journal of her experiences on the Road Scholars trip to Dallas in mid-March. Below are her reflections, written each night, on the cultural and professional outings the group undertook.
Day 1
It took me all night to pack for our trip to the Lone Star State (and I still forgot stuff), but after self-service check-in, airport security, and a three hour flight to Dallas, we made it!
We arrived at the Magnolia Hotel where we stayed long enough for me to perform the ultimate traveler's test (jumping on the bed). Then Allison and Tracy took us across the street to Sol Irlandes, a yummy Tex-Mex grill where we got to eat our first Texas meat.
I ordered the ribs and chicken combo, which was fabulous especially after six hours sitting in an airport, a plane, and a bus. Others had: steak, shrimp wrapped bacon with ribs, Southern-fried fish and chips, Southwestern-style salmon, and, of course, fajitas.
I cannot mention dinner without dessert. I shared dishes of their famous fried vanilla ice cream, and sopapillias. For those of you who do not know, these are "airy puff pastries lightly fired, drizzled with honey, and sprinkled with powdered sugar and cinnamon"…. in other words, yum. I did not even know what sopapillias were, and I still cannot pronounce them, but they are amazing!
Day 2
Nothing's small in Texas, and Dallas is no exception! Our first day was painful and amazing (heels plus walking tours are rough). Our first site visit was at Dallas Market Center (DMC). I didn't know what this was but it ended up being my favorite visit. DMC is a wholesale market; I like to think of it as a giant mall! It is +15 stories of business-to-business retail that opens its doors only to business owners and registered buyers.
DMC was a huge shopper's paradise with products ranging from clothes to furniture to home and holiday decorations, all at wholesale prices. It's crazy how a good that costs $84 is marked up 200-300%! DMC was a side of marketing and retail that you don't see or think about. Our tour guide, Lonnie, and many of the showroom managers really got across to us how important it is to know your market to be successful.
A bus ride later, we were at Mary Kay manufacturing plant. I think I speak for all the girls that this was probably the most anticipated tour. Our guide took us through the factory line where we saw actual makeup being made. Seeing what we put on our faces in buckets and steel cans gave us a new perspective on how huge of the beauty industry is and how far women go to be glamorous.
MK practices lean manufacturing and continues to innovate and make their assembly lines more efficient by investing in top-of-the-line technology, all while treating its employees like family. We also got to see the corporate headquarters of MK and Mary Kay Ash's museum and pink office! MK Ash left her successful sales job to offer opportunities to women that weren't available in the 60s.
We ended the day with a great tour of Dallas. Our local guide Rebecca had stories and historical facts for everything. Dallas is a contrast of historic icons and modern luxury. We saw Dealey Plaza, where JFK was assassinated, and the world-class art center as well as mansions of Dallas's rich and famous.
Day 3
It's easy to forget that where we're staying is a business too. The tour that we got today of the Magnolia Hotel was interesting. We meet a few managers; our guide is now in the HR department but was in housekeeping and in other sectors before landing his current position.
We headed down to the hotel dungeons to see the laundry. We saw the engineer's room, an important place, especially in an old hotel like the Magnolia. The kitchen stood out the most for me. I think we were all surprised at how small it was. Even so, they make millions of dollars a month and pull off big banquets just from that one room. The Magnolia's goal is to break out from the cookie-cutter hospitality industry.
We went straight to Lane Gorman Trubitt, a CPA firm where we met Shirley, an AU alum. We walked through the office and got to stop at the cubicles and offices of the partners, staff, and interns. We were provided lunch and actually ate with the accountants and got all kinds of questions answered.
American Airlines was next, which was exciting. After a quick movie, we toured the Airlines' interactive museum and where they had an old DC-3 from the 30s. Of course, we all got pictures. Bella Goren and Charlie Sulta, both vice-presidents of customer relations marketing and AAdvantage (frequent flier program) marketing respectively, gave an overview of the company and took Q&A.
Their advice is to take the initiative, network, and become a leader to stand out. Then we went through the training academy building to the System Operations Control and got to sit in the command center and see the dispatch room while having Jeff Osborne, a pilot, present the technological side of the airlines. As crazy as it sounds, the airline industry consumes $8 billion worth of oil every year!
We ended the day with the alumni dinner at the iconic Iron Cactus. It was a great chance to network with experienced professionals and an opportunity to hear life stories as well as learn more about Dallas. An alumnus at my table once worked for Match.com as well as a top Japanese company in NYC. A quote from one of our other alumni, Arthur, summed up today's business theme: "chase your markets."
Day 4
Affiliated Computer Services (ASC) was a good surprise. We knew only that it was part of the ITEC industry, so many of us pictured rows of computers. Instead, we got a fantastic tour of a company's backbone by Todd, the Director of IT Operations.
ACS outsources information technology services to clients. They are the people who pick up when we call for tech help with our credit cards, cell phones, and troubleshoot. They are on call when we deal with our electronic student loans and when we watch TV. We got access to restricted floors where huge mainframes were located.
ACS provided a fabulous fajita lunch in their penthouse boardroom where we had four speakers. These top senior analysts, officers and managers provided us with some great advice: know your market, be an expert in what you do, and be flexible--your career is never locked in, so be a team player yet don't be overly compliant.
We finished with the Dallas Cowboys Stadium, an amazing feat of engineering and architecture that took 4 years to build. It has the largest covered dome and the largest high definition jumbo-tron in the world. The stadium seats 80,000 but can fit 100,000 people! As the host of the next Super Bowl, they plan to put 5,000 TVs in place. We met with Amy, a sales director who briefed us on working in the athletic world. We saw both the Cowboys' and their cheerleaders' locker rooms and saw the set-up for a boxing match on the field.
On our free evening, many of us went out to eat at a smokehouse, where one of us even got a half-pound of Texas meat! Then we went out to explore Dallas's Art District, the largest in the country. We had fun at a free exhibit of the Crow Collection of Asian Art.
Day 5
Texas Instruments are calculators to us but surprisingly, calculators only make up about 3% of their annual revenues. TI is actually a semiconductor company, and its influence extends to products we use every day: cell phones, kitchen appliances, mp3s, digital cameras, toothbrushes, and medical equipment. We met with Sonya, a university recruiter, who introduced a finance, accounting, and operations internship and co-op opportunity. We went on an amazing interactive tour of the technologies that TI contributes to. We were all impressed by the cell phone technologies especially and the projection capabilities of new phones that allow for a new way to watch movies.
TI says it is the first company to ever implement an ethics policy and social integrity, and values are a huge part of working at TI. TI was also a huge player in the making of the revolutionary movie Avatar.
We had a Texas barbecue lunch at Dickey's Barbecue Pit, a family-owned franchise in Dallas. Dickey's was a contrast to other corporate visits; it's still small but growing, with franchises opening every month throughout the US.
Dr. Pepper Snapple Group was a fantastic visit to end our corporate week. They have carved out an impressive market share - all by not competing on cola.
The staff took us through their R&D laboratories where we saw actual testing. The amount of ingredients and time that goes into one beverage is incredible. There are 4,000 legal compounds. We meet the 'flavorists' and got to guess the compound flavor from its scent.
And of course we got free samples. We tried the new 7-11 slushies that wouldn't be released until this summer for the Ironman II premiere, among others. And all while wearing lab coats! Make sure to watch the upcoming season of The Apprentice to catch the celebrities actually creating the new Snapple flavors for Dr. Pepper!
Day 6
The city of Fort Worth is home to a historic stockyard that evokes cowboys and the culture of the old West. Located outside of Dallas, Fort Worth was the last place JFK visited before he was assassinated. FW is kept much like it was at the turn of the century. We saw the hotels of Bonnie and Clyde and saloons of Butch Cassidy and the Sundance Kid. We saw a reproduction of a cattle drive and toured the stables and pig subways. Some of us even rode a mechanical bull! FW is almost completely preserved--minus the livestock.
The rest of the day was ours in Dallas. Mutsumi, Amber, Ruth, Michael, Rob and I walked to Chase Tower's sky level to get a panoramic view of the city. Next, we went to West Village to do a little shopping. Dinner was at one of the best pizza places in town, Campania, where we ordered a large thin-crust half Margherita and half Piemontese and loved it.