Arts
Oklahoma! Rolls into the Greenberg Theatre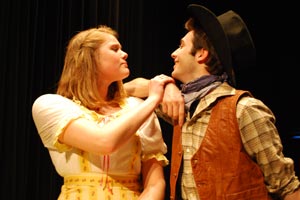 The Department of Performing Arts will present Rodgers and Hammerstein's classic musical Oklahoma! at the Harold and Sylvia Greenberg Theatre from March 25–28.
This time-honored musical first debuted on Broadway in the midst of World War II. Set in the Oklahoma territory in 1906, the play features characters who struggle for survival as they shape the future of the land. It became a smash success, creating an escape from the stress and worry of the era. Director Karl Kippola explains, "In moments of tension and anxiety, seeing all these people who are in the process of establishing a community can be inspiring."
With over 30 members, the production's cast is one of the largest in AU's history. The cast will be joined by members of the AU Symphony Orchestra, and numerous students served as the show's choreographers, stage managers, and crew. "This is a play that is involving the passions of a lot of students" says Kippola.
Karl Kippola is professor in the Department of Performing Arts. As an actor, director, choreographer, adapter, and dialect coach, he has been involved in well over 100 productions throughout the country. In his years at American University, he has directed Kiss Me, Kate; Of Thee I Sing; The Mystery of Edwin Drood; Hamlet; Urinetown; The Country Wife; and Tartuffe. For additional information and tickets for these performances, please visit http://american.tix.com.