Alumni
Eagles Return to D.C. for All-American Weekend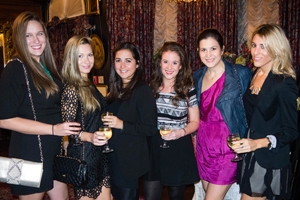 Thousands of alumni descended on D.C. during a beautiful weekend in October to celebrate All-American Weekend 2013. The quad was abuzz with smiling faces, hugs, laughter, and sentiments of excitement from those who traveled from near and far to reconnect and reminisce with old friends and classmates.

The weekend included a full slate of programming ranging from class reunions, the multicultural alumni reunion, the psychology alumni reunion, the annual alumni awards ceremony, academic sessions and more.

Preceding the alumni festivities, the weekend kicked off in style with a gathering of nearly 300 of AU's loyal supporters for the President's Circle Dinner in an elegantly adorned Bender Arena. The evening celebrated the profound generosity of this special group, and the impact it has made in the campus community. While serenaded by a string quartet of AU students, guests mingled with President Kerwin and university officials over cocktails, and were then treated to dinner and a special program accompanied by the AU jazz combo.

Friday
Friday began with council meetings hosted by various on-campus units discussing their strategic plans for engaging alumni in the work of the university. Meanwhile, other alumni geared up for events, beginning with the Faculty-Staff Alumni Bagel Breakfast, the Golden Eagles Luncheon, the inaugural Career Connections Fair, and the Psychology Alumni Reunion, which included a lab crawl and happy hour.

Dorothy Miller, CAS/BA '33, joined peers at the Golden Eagles event and was heralded as she celebrated 80 years since her graduation from AU. After the event, she described memories of a campus far less developed than today's and tuition of $100 per year. In her time, tuition also included books and even activities and entertainment.

Friday evening, nearly 200 AU alumni attended the Multicultural Alumni Reunion Welcome Reception at Hotel Palomar. Attendees enjoyed hors d'oeuvres and jazz music, followed by a warm welcome from Chip Griffin, SPA/BA '94, president of the Alumni Association. Attendees continued the festivities just two blocks away at the All-Alumni Party held at O Street Mansion. The party included hors d'ouvres, tours of the mansion, AU themed cocktails, and music rippling through various rooms while 300 Eagles reminisced about their time at AU.

Saturday
Saturday began with the Legacy Alumni Breakfast and Pinning Ceremony, where President Kerwin talked about his family's tradition of attending AU. The program culminated with current students and alumni pinning family members. Others early risers enjoyed the Psychology Alumni Breakfast and the classes of 2003 and 2008's "TDR Takeover" brunch.  

The All-American Fall Festival on Saturday afternoon was graced with ideal fall weather, and alumni, families, and friends congregating at the Woods-Brown Amphitheater to enjoy food, fun, face painting, arts and crafts, and a live musical performance from the Jenni Schick band.

A number of other events took place on Saturday, including Career Development and Multiculturalism sessions, a Hello, Clawed!, Children's Book Reading with Cynthia Augustine CAS/BA '03, The Rothfield Collection of Contemporary Israeli Art and guided tour, lecture on friendship with Dr. Andrea Bonior, CAS/MA '02; CAS/PHD '04, and the second annual Celebrate! Multicultural Student-Alumni Reception.

Saturday's evening entertainment began with our Annual Alumni Awards Ceremony and Dinner, featuring alumni award winners Dean Jay Factor, Kogod/BSBA'87, Kevin Hagan, SIS/MA '97, Judi Byers, Kogod/BSBA '04, CAS/MS '12, David Simnick, SPA/BA '09 and Jonelle Williams, SPA/BA '09.

The classes of 2003 and 2008 dashed across the streets of Washington D.C. to celebrate their reunion and reconnect with their classmates. The first-ever joint class reunion was held at The Front Page D.C. and was a smashing success with nearly 200 attendees. Additionally, a number of alumni attended the Kennedy Political Union's WONK of the Year presentation, where CNN's Anderson Cooper was honored. The arena was filled with parents, students, and alumni who heard Cooper talk about his life experiences and passion for journalism.

Sunday
After Friday and Saturday's festivities, alumni were invited to attend a sparkling cider brunch at MGC's University Club, a Spirit Alumni Network brunch, and the Multicultural Alumni Reunion finale, the Fraternity and Sorority Brunch.

Vicki Aken, SIS/BA '94, who traveled all the way from Nairobi, Kenya, to reunite with her former roommates at All-American Weekend, said, "I've always wanted to come but this year, the timing worked out perfectly. I made the timing work," she said. After a weekend of reminiscing and laughter with friends Chip, SPA/BA '94, and Jen Griffin, SPA/BA '94, among others, Vicki, we're sure, was glad she made the trip.

No matter how far you're traveling, make plans now to attend All-American Weekend 2014, which will be held October 17–19.
The Alumni Association would like to give special thanks to all of the volunteers who made this weekend possible, including Clarence Fluker, SOC/MA '02, Antonio Gutierrez, Esq. SIS/BA '01, and the 33 alumni volunteers who helped to produce the inaugural Multicultural Alumni Reunion. We'd also like to thank the Classes of 2003 and 2008 Reunion Committees and Sara Nieves-Grafals, CAS/BS '75, CAS /MA'79, CAS /PhD '80, chair of the Psychology Alumni Reunion.
To find out how you can help plan next year's All-American Weekend activities, please contact Carlita Pitts at cpitts@american.edu. We're looking for class reunion planning committee members for the classes of 2004 and 2009.