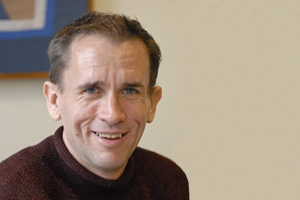 About 15 years ago, managing a clinical trial in Africa, Andrew Fullem, SIS/BA '88, reached a personal crisis point. Fullem, who was HIV positive, was forbidden by U.S. government policy from offering HIV-infected women in the trial the same drugs he took daily to keep himself healthy.
For the longtime advocate of HIV treatment and education, it was finally too much.
"Here I sit popping my pills and healthy and the only response to them was we really have no treatment for you, we can refer you to some palliative care services, and good luck to you," Fullem says. "It just got to a point where I just couldn't do it anymore."
Now, Fullem is director and cofounder of the JSI and World Education Center for HIV and AIDS, based in Boston, which partners with organizations and communities in eight U.S. offices and around the world to fight the spread of HIV/AIDS and strengthen support services for prevention and care. These days he spends about a quarter of his time traveling, domestically and abroad. He has worked in Africa, Southeast Asia, and Central Asia, and well as in the United States over the course of 20 years, living the dream of many of his classmates at the School of International Service. Along the way he also earned a master's degree in public health from the University of North Carolina–Chapel Hill.
What changed his mind about international HIV/AIDS work? He promised himself he would resume the work only if he could keep two vows: First he would be open about his HIV status, and second he was going to be out about being gay.
It's a promise he has kept—with one personally troubling exception.
A snowy Groundhog Day in Boston. Fullem has just returned from a two-week trip to Uganda, a country he's visited more times than he can remember.
For five years, he says, he and his team have been working successfully in northern Uganda with the government and nongovernmental organizations to ensure that people continue to have access to HIV prevention and support as well as TB and malaria services.
Then, toward the end of his trip, came shocking news: outspoken gay rights advocate David Kato had been bludgeoned to death just months after a Ugandan newspaper ran his photo, along with that of other gay men and lesbians, under the headline "Hang Them." Uganda is one of 38 African countries where homosexuality is a crime, and despite international condemnation legislation is still pending that would make it punishable by death.
So how does he operate in such an atmosphere?
"For lack of a better word, I go back into the closet, which is a very uncomfortable place to be," Fullem says. This is necessary not just for himself, but for the safety of people he works with.
Despite such extreme cases, staying true to his vow of being open about his HIV status and sexual identity has proved to be the right thing to do.
"It's an indication that HIV doesn't have to run your life, that you can contribute back to the community as much as you take," he says of his example. "But it also brings a sensibility to my conversations with people, particularly in leadership positions, because I know what it means to be a client of health services and what it means to reveal your status."