Recent SOC Grads Offer Advice in Panel Discussion
By Rosemary D'Amour
November 22, 2010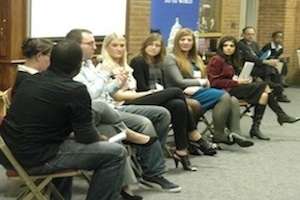 Yes, there are jobs out there.
Just ask the five 2010 SOC graduates who brought their success stories to current students in Professor Pallavi Kumar's public relations class. 
"This is the best time ever to be in the field of communications," said Michael Cascio, SOC '73, and Senior Vice President of the National Geographic Channel. 

Cascio opened the panel discussion, "192 Days Later: Where Are They Now?" co-sponsored by the Graduate Student Council and the Career Center, citing the convergence of technologies and skills that's opened up a new environment for the industry. 

And the alums offered words of wisdom just six months after graduating to a room of almost 90 people.

"Being able to write in different styles, whether informatively or persuasively, and understanding the different styles, is really important," said alum Alexa Antonuk, now Communications Manager at the American Resort Development Association. "We really use everything, all the time." 

The panelists recommended that students try to diversify their education by combining communications and writing courses with business classes, or technical training (such as in Microsoft Excel), things that each said they had to use at some point at an entry-level position.

And Lauren Belisle, Assistant Account Executive at Ogilvy PR Worldwide, emphasized taking initiative at internships.

"The connections you build are still important, even if they don't lead to a job," Belisle said.

Tessie Epstein, Client Staff Assistant at Burston-Marsteller, said that attending networking and job fair events her senior year helped her hone her skills. 

"I picked a buddy to go with, which helped me stay on track," said Epstein. "I was really focused on meeting people and reaching out." 

Other panelists included Lauren Walens, Associate Specialist at the American Cancer Society Cancer Action Network; and David Lieberson, Publicity and Promotions Coordinator at Allied Integrated Marketing. 

Kumar, herself a 1994 graduate of SOC, and Terrance Green, SOC '98, Vice President and Senior Producer at GMMB, a political consulting and advocacy advertising firm, moderated the panel. 

Kumar said she had the idea in August to gather former students for a panel discussion, and decided to use her students in her COMM-301 Public Relations class to plan the event. 

"Everyone had a little ownership, it was a real team effort to get this event together," Kumar said. 

Kumar said that this project helped build students' skills, and put them in a unique position upon graduation. 

"We are the only public relations undergrad degree in the city, so when our students graduate, they're different than others applying for the same jobs—they can make a strategic plan, or put a press kit together," Kumar said. "They're ready, because they have actual skills that they can use immediately. It's the AU advantage."