Alumni
"A Skillful Advocate": Former Ambassador Named Alumnus of the Year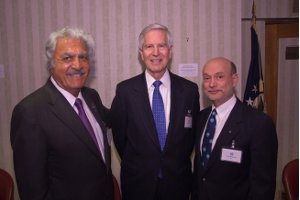 Members of the SIS community past and present gathered to honor Ambassador Clyde Taylor, SIS/MA '61, as the SIS Alumnus of the Year for 2010-2011. The event was held at the DACOR-Bacon house in downtown Washington, D.C. on April 13.
The Alumnus/Alumna of the Year prize honors "an alumna or alumnus who exemplifies the ideals and values of SIS," according to Judy Donner, coordinator of Development and Alumni Relations.
"Clyde Taylor has been deeply involved with the SIS community for his entire adult life and is a role model for students, faculty and staff," remarked Dean Louis Goodman. "Particularly important to me has been his service on the Dean's Advisory Committee where his advice, counsel, and friendship have been invaluable. Clyde Taylor makes me proud of SIS and SIS is proud of him."
The many words of praise were accompanied by some lighthearted ribbing at Ambassador Taylor's expense from his longtime friend and Foreign Service colleague Ambassador Alan "Tex" Harris.
"Ambassador Taylor has failed major tests of modern diplomacy. A diplomat is a person who thinks twice before saying nothing," Ambassador Harris joked. "Ambassador Taylor will always tell you what he thinks and in a most heartfelt and convincing manner."
Harris concluded, "He is such a skillful advocate for what is right that he may, in fact, give diplomats a better name."

The man of the hour offered some praise in return for SIS, its faculty, and its capabilities.
"SIS was then and continues to be identified with public service," commented Ambassador Taylor. "Public service is its distinction.  Good education, yes, but with practical application in public service."
Ambassador Taylor's diplomatic history includes postings throughout the world, including Panama, Australia, Iran, and El Salvador. He currently serves as the director of the Una Chapman Cox Foundation, which "works with the Department of State and non-governmental organizations to initiate and implement a variety of projects that support a strong U.S. Foreign Service," according to the program's website.