Alumni
MBA Advances Career in Human Resources After Graduation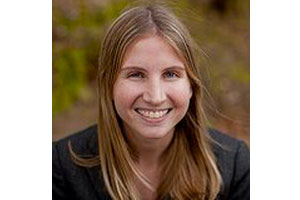 It's a common credo that a happy employee is a more productive employee.
Meredith Rogers, MBA '12, truly believes that. And she believes human resources management will continue to grow and become more prestigious, as more firms realize the importance of enhanced employee satisfaction.
"I've always thought that people are what make a company great," said Rogers. "Human capital is any firm's greatest asset."
Following her recent graduation, Rogers joined Bechtel in Glendale, Arizona, as a human resources representative. To start, she is in a rotational program, learning the ins and outs of the engineering, procurement, and construction company, which has employees working in more than 40 countries around the world.
Her first rotation is in international assignment management—a position that a past internship in the human resources department at the British Embassy prepared her for.
"During an internship you have to be proactive and dive into work immediately in order to learn as much as possible and make a contribution," she said. "It's a valuable experience to have under my belt, given that I'll be changing positions every six-to-10 months for the next two years."
For the foreseeable future, Rogers will be aiding Bechtel employees and their families in the process of moving abroad.
"We have more than 3,000 expats working for the company," she said. "I'm going to be very busy!"
From the Start
Rogers has pursued a career in human resources since earning her bachelor's degree in labor and employment relations.
After two years as a human resources analyst, Rogers realized that while she understood the function of human resources she didn't know much about the other aspects of business that she was engaging with on a daily basis.

"With an MBA, I would become better at any HR job and move forward with my career," she said.
Rogers was looking for a small experience after going to a large university for undergrad. At Kogod she found not only an intimate environment, but also a team-oriented environment. Other universities she considered discussed competition among students, she said.
"It was the idea of being in a collaborative environment that I thought would help me build my business skills the most," she said. "After all, in business, employees are supposed to work together."