Achievements
AU Wins Best Web Site of Industry for Education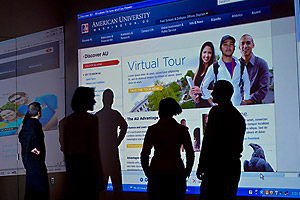 American University has won the Web Marketing Association's "Best Web Site of Industry" in the education category for its Web site launched in 2009. AU is the first institution of higher education to win in this category since the award's inception.

Previous winners in the education category include National Geographic's "Discover Antarctica" page in 2006, and Disney Online's "Hot Shot Business" site in 2005. In its 13th year, the Web award program recognizes the individual achievement behind the creation of today's top Web sites in 96 industries. The awards define what Internet marketing professionals should strive for in their website marketing and design efforts.
American University's Web site features news, success stories and profiles, site-wide global navigation, a virtual campus tour, user-generated content through a wiki called AUpedia, and a university master calendar. The Web Marketing Association rated it high for its innovation, design and ease of use.  

"Our site is a window into the exciting happenings at American University each day," said Terry Flannery, executive director of communications and marketing at AU. "Our intention is to continually engage our many audiences with information that draws them into an ongoing relationship with us."
Since the launch in March 2009, AU's Web Site has won awards from eduStyle for Best Overall Website and the Council for Advancement and Support of Education for best homepage.
"American University has produced a transformational site and created a collaborative meeting place for students, faculty, staff and visitors that should be the envy of the higher education community," said Bob Cellucci, senior vice president at PaperThin, who supported American University's entry in the competition.  "It was exciting to work with a team who had a clear vision of what they wanted to accomplish and we're very proud to have been part of the process."

"Even though we have been cited as an industry benchmark, the work on the site continues and improvements are being rolled out," said David Swartz, an assistant vice president and chief information officer at AU. "Much is being planned to further enhance AU's web presence and to make it easier for our community to access and share needed information."
New York–based firm HUGE analyzed the current site and produced a new vision for american.edu based on the user's experience and not the institution's organizational chart. They produced a visual and structural redesign that incorporated the university's brand and sub brands and provided the shared tools need for consistent delivery of new content and performance.
DiscoverAU, with its "Virtual Campus Experience" produced and streamed by Realview TV, is the site's cornerstone and pushes the boundaries of innovation for college videos and virtual tours.
To create the site's functionality, AU turned to content management company PaperThin, Inc. and Web technology consultant firm, North Highland. PaperThin's content management product, CommonSpot™, makes creating and sharing content and site management easier. North Highland assisted with the mapping and planning of content to be used across departments within the university.
This Web 2.0 launch was the result of a two-year campus-wide collaborative process, led by an expert group of leaders from the university's information technology and marketing communication areas with assistance from industry partners.

Mike Unger contributed to this story.