Alumni
Acting from the Heart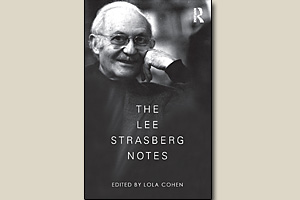 Marilyn Monroe. Robert DeNiro. James Dean. Dustin Hoffman.
The list of famous actors identified with the Method — an internal, psychological approach to the craft of acting, developed in part from the work of Russian director Konstantin Stanislavski — reads like a who's who of film and theatrical legends, and includes younger stars such as Scarlett Johansson, Uma Thurman, and Angelina Jolie.
The man behind the Method, Lee Strasberg, also taught acting to Lola Cohen, CAS/BA '68.
Now, Cohen (known during her AU years as Nancy), who studied with Strasberg for five years and spent 23 years teaching at the Strasberg Institute in New York and Los Angeles, has edited The Lee Strasberg Notes, the master teacher's thoughts on everything from training and exercises to directing and the Method.
Culled from hundreds of hours of videotapes of Strasberg's acting classes— during which Strasberg actively critiqued his students' work — Notes also contains photographs of Strasberg with his family and such Hollywood royalty as Francis Ford Coppola and Elia Kazan. "Lola Cohen's Notes are about as close as we can come to experiencing the magic of what Lee gave to his students," Oscar-winning director and AU grad Barry Levinson, SOC/BA '67, blurbed. Other Hollywood luminaries such as Johnny Depp, Eva Marie Saint, and Ellen Burstyn have praised the book as well.
"I knew these tapes were disintegrating," Cohen says, explaining why she transcribed them. "There was no digital video then, and there wasn't a way for them to be preserved. I took it upon myself — never thinking it was going to be a book — just to preserve them and systematize them."
Cohen began her own road to acting by way of Highway 61. After her political awakening at AU — she recalls the atmosphere of the antiwar movement in D.C. in the '60s as a "magical time" — she worked at alternative newspapers in New York and Los Angeles, including the LA Weekly. In New York's music scene she got to know folk legend Phil Ochs (she's interviewed in a new documentary about Ochs). But it was her friendship with Bob Dylan that ultimately led her to acting.
Invited by Dylan to join him and a band of friends, musicians, and creative artists including Allen Ginsberg and Sam Shepard on the Rolling Thunder Tour in late 1975 and 1976, she played a small role in Renaldo and Clara, Dylan's obtuse four-hour concert-and-art film. The New York Times described the film as containing "more than its share of dead weight, but it is seldom genuinely dull."
Obscure or not, the film showed Cohen her path: acting. Back in New York, she interviewed to work with perhaps the most famous acting teacher in the world, Lee Strasberg.
"He reminded me of my father, so I didn't feel intimidated. And he had this lower East Side accent, so it was very comfortable for me," says Cohen, who was born and raised in Brooklyn. "He was painfully truthful but he never attacked you. Maybe he attacked your work, but it was never personal. He was very demanding and expected you to go further than you yourself thought possible, and he pushed you to do that."
Strasberg is also known to theatre and film buffs as an actor, especially for his Oscar-nominated role of Hyman Roth in Francis Ford Coppola's 1974 film The Godfather: Part II. But it is his towering role as an acting teacher for which he will be remembered.
Still, to most fans the Method remains mysterious. "People have the wrong idea about the Method sometimes, that you're ripping your heart out constantly," Cohen says. "And of course when you need to you know how, but those moments are not constant and you have to be able to live on the stage as a human being free from tension."
How does the Method work?
"Lee's approach to acting emphasizes the internal approach, where the Method trains actors to use their own personal experiences, their own feelings, emotions, their own truths, fusing them together with the inner psychological life of the character. And this enables them to live on the stage and respond truthfully to imaginary circumstances created by the playwright."
Cohen still teaches the Method, which she continued to study under actress Kim Stanley and director José Quintero after Strasberg's death in 1982. She now lives in Woodstock, New York, where she raised her two children. In addition to her work at the Strasberg Institute she has taught acting for 13 years as an adjunct at NYU's Tisch School of the Arts Acting Program. For 11 years she's also taught a class called Communication Skills for Attorneys at the Brooklyn Law School, where she's an adjunct associate professor of law.
Cohen still works as an actor and a director. And as a teacher she's had her share of famous students, among them Broadway star Kelli O'Hara of South Pacific and The Light in the Piazza, and Daniela Ruah, costar of the CBS TV series NCIS: Los Angeles. Cohen also coached comedian Chris Rock on his first job as a director.
Now, with The Lee Strasberg Notes, the AU education major has produced a work that can help acting students and theatre and film scholars alike understand Strasberg's work in a whole new light.