International
Students Get Global Audience for Their Investment Advice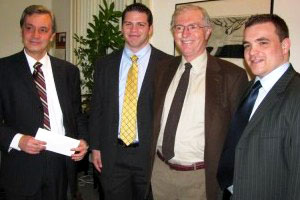 In Tomasz Mroczkowski's International Business Analysis class, students' homework served a purpose beyond the norm: it provided them with a chance to change the way some eastern European countries do business.
Mroczkowski used his connections with the Polish embassy to bring one of its counselors, Zbigniew Kubacki, into the classroom. Kubacki shared with the students an overview of business opportunities in Poland, highlighting Poland's strengths globally and in relation to the EU.
"Overall, this was my favorite part of the class," student Andrea Kayal, MBA '11, said. "I felt privileged to have Mr. Kubacki deliver first-hand and real-time information about Poland."
"I gained a deeper understanding not only of the types of issues that other countries are facing, but how they rank their priorities, both internally and externally, she added.
Mroczkowski also provided similar presentations from other eastern European countries so that the students could compare and analyze each in written feedback. He then assembled the feedback and made it available to the commercial offices of the eastern European countries they studied.
"It gave the students extra satisfaction because they were making an impact," Mroczkowski said. "The financial officers from the countries said that they were going to use the feedback to make changes in how they present themselves to US businesses."
He then helped the Polish embassy create a competition for the best analytical paper on investment opportunities in the high-tech sector in Poland. It was a voluntary assignment for the students, with incentive monetary prizes of $500 and $300 for the first and second place winners.
Christopher Bailey, MBA '11, won with his paper on investment opportunities in Poland's robotics industry. Based on his past work with robotics and information from the Kubacki's presentation, Bailey concluded that "high-end technology, such as robotics, is a perfect fit for Poland."
"They had a positive GDP during a recession that has and will continue to spark interest from companies looking to expand to new areas and markets, especially after a year of hardship," Bailey said. "Implementing robotics will improve efficiency, quality, and total overall production." Kayal received second place for her recommendations: a greater focus on investments in renewable energy.
An awards ceremony was held for the winners on December 17 at Poland's Trade and Investment Office on Embassy Row.
"The competition provided students with a real opportunity to learn by doing something exciting," Mroczkowski said. "It also testifies to the abilities of our students to come up with exciting proposals."
Professor Mroczkowski is not teaching the course this spring, but says that he hopes to keep similar opportunities available in IBUS-610 in the fall and to explore different regions.