Alumni
Finance Pro: 8 Questions With Alumnus David Nason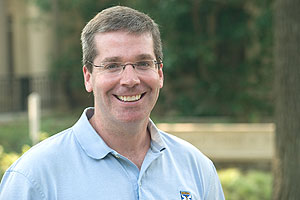 David Nason, BSBA '92 and JD '95, played a major role in the government's response to the recent financial crisis. Formerly Assistant Secretary for Financial Institutions with the Treasury Department, Nason now works with GE Capital, preparing the company for changing regulatory environment.
1. How did your education at Kogod and AU's Washington College of Law prepare you to deal with life-changing professional experiences?
A lot of what helped me do a good job at the treasury was a result of the fact that I went to school and spent so much time in Washington, D.C. I worked at the Commodity Futures Trading Commission, the Federal Deposit Insurance Corporation and I worked with the Securities and Exchange Commission. All of that was great prep for the Treasury.
2. Any favorite courses from when you were at AU?
I really liked the Futures and Options course and I really liked Organizational Behavior. That's where you take the Myers-Briggs test and they tell you what you're good at and what you're not good at. Those were neat courses to get a sense that business is all about people.
3. Do you remember your results from the Myers-Briggs test?
I do: ESTP. Extrovert, sensor, thinker, and a perceiver. "P" is not typical for people like me. Everyone who looks at it would assume I would be a "J," which is the list-maker and Type-A guys.
4. How does it feel to have a Wikipedia page of your own? 
The whole being a political figure, at least for a limited period of time, is very rewarding but also quite stressful. People are talking about you in the newspaper; people say things that aren't necessarily based on fact and you don't get a chance to defend yourself all the time.
5. One of the most high-profile things you did during the economic crisis was the money market mutual fund insurance program. Can you tell us about your role in its creation? 
A very large percentage of people in the country have money market funds. Because of some of the crazy stuff that happened during the financial crisis, people were going to lose money with them. We were afraid that if that started to happen, people would lose confidence in the U.S. financial system, confidence in their country. We basically had to create from scratch in five days an insurance program for these funds. 
I was the head of a 12-person team, and we found a pocket of money in the government that wasn't earmarked for anything else and said this was the insurance program that was going to give confidence in the market. And it worked. People started putting money back into the funds and we didn't lose a dollar.
6. When you were in school, was it your goal to have a position like the one at the Treasury Department? 
No, my goal was to make money, like most people in the '80s. You wanted to get rich. Everything that happened to me in this position is all kind of random. I was a lawyer, I planned on being a lawyer, I was happy being a lawyer. I had a friend who worked in the administration and she called and asked if I wanted to work at the SEC, and I just said "no." Then I talked to the folks at the SEC and they asked me to do it, and that led to the Treasury. Not planned, not charted, it just happened.
7. Tell us a little bit about your new position with General Electric. 
I'm going to help GE Capital, which is the big finance subsidiary of General Electric, get ready for the regulatory world that was created in response to the financial crisis.
8. As a double graduate of AU, what led you to come to school here in the first place? 
I grew up in Rhode Island, and I was the first kid in my family to go to college. Some friends of my parents said there were some really good schools in Washington that I should apply to. And I didn't want to; I wanted to stay in New England. So I applied to a couple of D.C. schools, and I got a scholarship [to AU]...and my dad said "Enjoy D.C.!"