Technology
Center for Social Media Hosts First Public Media Camp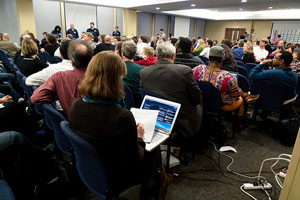 The Center for Social Media hosted the first Public Media Camp (PubCamp) for over 250 leaders in the fields of community organization, blogging and technology development at the American University School of Communication. The camp's goal was to strengthen the relationship between public broadcasters and their communities through the development of collaborative projects, both online and offline.

Jessica Clark, Director of the Future of Public Media Project at CSM, said she was excited to host the first Camp. "For the last four years, the Center for Social Media has been examining the future of public media," she said. "Here, today, we can see that the future is now. We'll continue to watch it evolve, and ask hard questions in the coming months." 
CSM, an academic center at SOC, recently published a report on digital media use and best practices, which includes work done by a Corporation for Public Broadcasting funded project that Clark headed. The report can be found here.

Kinsey Wilson, NPR's Senior Vice President and General Manager of Media, said connecting their local NPR stations to their respective communities gives the listeners something more. "The value of allowing skilled, motivated public media fans to not only join the conversation, but take an active part in creating our future is enormous."

The camp decided to go with the unconventional idea of "unconference" formats where attendees organized the event activities themselves and were encouraged to propose and lead their own sessions. Participants of the camp also created their own projects on the spot without any set schedule.

PBS Senior Vice President of Interactive, Jason Seiken, said his company is making provocative changes in how they work and present content online so this camp couldn't have come at a better time. "We're looking forward to the creative, smart and eclectic solutions that will come from PubCamp, as well as from local station implementation of this model."

The breadth of expertise in attendance at the camp was unsurpassed, demonstrating how public media reaches out to all realms. Not only were big organizers like Andy Carvin of NPR and Jonathan Coffman of PBS there, but also in attendance were names including Craigslist founder, Craig Newmark.  

In addition to the projects conducted by public media staffers and enthusiasts, almost 100 technology developers were provided with rooms to create mashups and apps to further the syndication of open content.

In her opening remarks, NPR CEO, Vivian Schiller, predicted this year, with the development of camps such as this one, would change the face of public media. "People will remember 2009 as the year everything changed."