First Person
We of Sound Minds and Bodies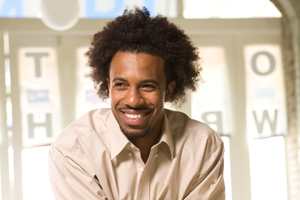 In the global propaganda war we find ourselves in, many seek control of "the truth"—that which, in terms of ideas, constitutes seemingly firm ground from which to launch. As a writer, the struggle for control of truth bores me, as I have learned that there is more truth in the process than the proclamations at the end. I don't write a poem to prove my truth. I do so to discover, and I read literature not to substantiate what I do know, but to illuminate what remains unknown to me. Once I have discovered, once I've read and delved deeper into the endless pit of that which I do not know, I may develop an argument to put things in perspective. But without that initial process of search and discovery, of boundary testing, I would have to say that my perspective, my truth, would be insular and of little worth.
The questioning of "truth" and the trials of discovery are what define liberal arts education for me. Be it in the study of literature, physics, history, and social sciences or engagement in the creative arts, we encourage our students to dissemble and reform, with their minds and physical bodies, the truths that they have inherited. It can be a trying process, but, even if they don't know it, they are brave. (Why else would they be here?)
A liberal arts education makes one a steward of the world, for not only does one learn our various ideological foundations, but also, and most importantly, one learns how to generate and answer the types of questions which lead towards a more nuanced and, in the most wholesome sense, actionable truth.
In "Asphodel, that Greeny Flower," William Carlos Williams writes, "It is difficult/ to get the news from poems/ yet men die miserably every day/ for lack/ of what is found there." I am walking into Battelle hoping to save some from such a fate, and if I and the rest of the CAS faculty are successful, we send out, into the university community and the global community, students who can do the same—thinkers.
Kyle Dargan is Assistant Professor in the Department of Literature.