News
Kogod Students Tour Microsoft Facility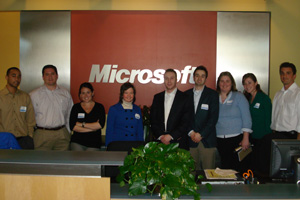 Kogod's newest club, the Graduate Information Society recently attended an Executive Briefing at Microsoft's Technology Center in McLean, VA.  MBA students got the chance to tour Microsoft's facilities and learn how a world class corporation sells to its clients, and how it provides tangible business solutions through its innovative products.

Students were able to preview new technologies such as the new "Microsoft Surface" and its many practical applications that will hit the market in the near future. In addition, students were able to get a glimpse of Microsoft's cloud computing infrastructure and ask Microsoft engineers and experts about future trends in IT.

"Having the chance to visit and explore a major IT Corporation such as Microsoft, really created a positive impression for everyone in attendance," said club president Peter Khanahmadi, MBA candidate 2010.  "At the end of the day, we were in awe of some of the technologies that were demonstrated, and left with a greater sense of imagination of how technology could be applied to solving business issues."