Josephson's Latest Hits Theaters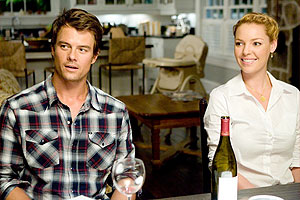 Barry Josephson, '78, is a Hollywood hit maker behind some of television and film's most successful projects. With two Golden globes and three Oscar nominations for his work, there's no denying Josephson's golden touch.
His newest feature, Life as We Know It, debuted this past weekend.   Katherine Heigl and Josh Duhamel star as two polar opposites and best friends to a couple (Hayes MacArthur and Mad Men's Christina Hendricks) who die tragically in an accident shortly after their daughter's first birthday.
Heigl and Duhamel's characters are left shared custody of the couple's baby and must live together and overcome their differences to raise her. "Life demonstrates quite a lot about the state of this genre as we know it -- and by that unexacting measure, anyway, it's better than most," says critic Brian Lowry in Variety, comparing the film to the slew of other romantic comedies released recently.
Life is only one of the many projects Josephson has on his plate. He also serves as executive producer of the hit Fox series Bones and has at least two more features in production. Josephson's career has included managing talent including Whoopi Goldberg and Paula Abdul, working as a producer at Paramount Pictures, Disney and 20th Century Fox where he is currently based.
Despite all of his fame and success, Josephson is still very connected to his American University roots.
"There's a very successful American University community out here in L.A. working in every aspect of film and television," says Josephson, "and I've had the pleasure of seeing just how far SOC has come in recruiting talented students and a dynamic, accomplished faculty."
He currently serves on the SOC Dean's Council, is former mentor to numerous alumni, and is the chair for the SOC Building Committee.