In the Community
Kogod Student Inspires Donation of Unused Textbooks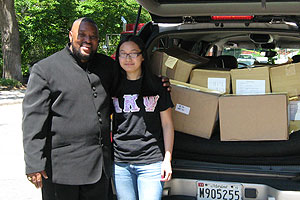 The Kogod Center for Career Development donated unused career planning textbooks to The Marshall Heights Community Development Organization (MHCDO), located in SE Washington, DC last week.  The architect of the donation was Liz Ung, a BSBA rising junior specializing in Accounting.  Liz became involved with MHCDO two years ago through American University's Freshman Service Experience (FSE), a community service program designed specifically for incoming freshman.
During FSE, Liz and her peers spent a week painting classrooms, collecting book donations, building a library, and getting involved with community outreach for MHCDO.  The community outreach included a day of career advising and planning with community members looking for jobs and helping to identify their skill set.
"One of the things I remember about this day was the woman that we met, Rose," Liz recalls. "She was running a career and college advising program from her home, and was helping students that would most likely never have resources to explore these opportunities."
Liz was personally touched by how much MHCDO does to improve the lives and conditions for people living in Southeast DC through community and personal development.  The career materials that Liz helped donate, will benefit the career search and planning aspects of MHCDO's programs.