Literature
"Raising the Lot in a World of Good"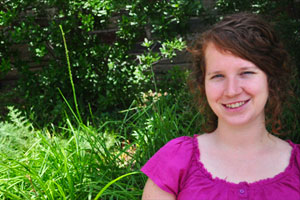 This May, Michelle Dove, CAS/MFA '10, received the Myra Sklarew Award in Prose for "Ask Yourself and Other Stories," the thesis she wrote and revised during her time in AU's MFA Program in Creative Writing. "The program has helped me recognize what works in my writing and what needs more attention," says Dove. "When you are exposed to so many perspectives on your writing and come to realize how much they overlap, the strengths and weaknesses of your work really sink in."
Named after Professor Emerita Myra Sklarew, the award is given by the MFA faculty each year to the graduating MFA students with the most original prose and poetry theses.
Below, Dove shares an excerpt from "Raising the Lot in a World of Good," one of 15 pieces included in her thesis.
____________________________________________________________________
Thirty years passed and it hit me. I had my selfish pick of fatherly joys: observing ebb and flow, riding tides void of storm out to sea. The children's schedules had been the pendulum in my tick. Piano, tap dance, horseback riding, wind ensemble (name anything, one of the Everlines did it). I asked Diane on the last day of March, in between the morning paper and the espresso blend––brewed every morning, quarter-past six, three decades long––"Did you take Will for new skis?"   
Her answer: "On sale at Buchika's Thursday."   
It was our thirtieth spring in New England, and in retirement we'd become deliberate. For thirty years, we hadn't thought about much of anything––did circus clowns measure how high pins sailed when juggling? After thirty years, we'd heard it all: mothers leaving newborns strapped in car-seats until suffocation, fathers spending bonus checks on Disneyland trips for four, nannies driving the whole lot straight off a bridge.   
There'd been times when Diane and I had showed up late to dance practice, bought violin strings of steel core instead of gut, engaged in spats with other gung-ho parents on the sidelines, let the girls stay up too late before a big track meet. We'd put three through high school and two through college without much effort. What had taken hold of us lately?   
In past months, we'd become creative. Diane found Pilates, and a Bunco group of four smoke-free women found her. I'd taken up the habit of turning paperwork into quizzes. The forms I filled out and signed (or didn't fill out and still signed) intended to service everyone who would outlive me.   
Statement of qualification: a family of overachievers. 
Income bracket: happily retired. 
Amount requested: enough to buy every child one of everything.  
Just the Friday before, Diane and I spent a leisure afternoon at the district court building. We changed our will to include Tanaman, the Pekingese our eldest daughter Leeta couldn't live without. Should he survive us, Tanaman was entitled to take his doghouse with him, along with three blankets handmade by Grandma Hinkler and enough cash for a lifetime supply of light bulbs to heat his doghouse (though kept inside) in winter. "Whose dog is this?" I asked aloud in our country-deco kitchen to anyone who would listen. I waited to see if the teapot or shot glass collections from every island in the Caribbean had a response. How about a word from the lace coasters on the breakfast bar? The bamboo placemats for decoration, removed when eating? Silence. I continued, "Does he, this regulated system called an animal, belong to the man who walks him, day in, day out?" No, I heard back, it's Leeta's because she named him. No, comes another voice, it's nobodies because the Pekingese couldn't really be owned. "How old is this dog?" I asked. "Shouldn't I be in his will?" No one or thing would answer. Death was a subject we Everlines avoided.  
I have often confessed: Diane and I raised our children fortuitously, and the three of them always had been too busy with activities to find trouble or to know trouble or to make trouble––if trouble was their middle name it would've disowned them for lack of interest. What had happened in these last few months was something like a paper trail, a trail that went out to pasture and back since the male spawn (Will) decided to return home for his sophomore year at Brandeis and the two females (Leeta and Marianne) had both decided, in light of separate ambitions, to move back home temporarily to save money. The chaos of a full house at this stage in life was never expected. Weren't we living in the decade of individuality and independence and freedom? My notions of exemplary fatherhood were based on trust and respect, yes, but also on the words of my father, the late Joseph Everline, Sr. "Children are like boomerangs," he'd always said. "Throw them just right and they'll catch your neck before you're hung."   
The neighbors stopped me the other day to tell me I'm lucky––that their children visit home every other Christmas. I smiled and told them they're right. That was me: lucky dog, lucky strike, lucky duck. I didn't tell them I'd created and filled out my own form, the mantra of retired fathers:  
What I was promised in retirement: time of my own. 
What I was the recipient of: instructions on how to lay a doormat. Case and point: my hammer—it had gone missing.  
Retirement was the appearance of time to rethink things.