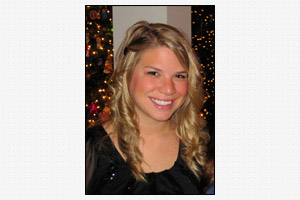 For Jenny Molberg, CAS/MFA '10, poetry starts with the little things. "I try to pay attention to the smallness of the word and the importance of minute details in day to day life," she says.
This May, Molberg received the Myra Sklarew Award in Poetry for "Floodplain," the thesis she wrote and revised during her time in AU's MFA Program in Creative Writing. "I met people in the program that I've grown to trust with my writing," Molberg says. "I've come out of it with a handful of readers who will be my readers for life."
Named after Professor Emerita Myra Sklarew, the award is given by the MFA faculty each year to the graduating MFA students with the most original prose and poetry theses.
Below, Molberg shares "Tropical Depression Nine" and "Texas," two of the poems included in her thesis.
___________________________________________________________________
"Tropical Depression Nine"
The dogs begin their chase in Cape Verde—a pack
 the size of Texas. They snarl in the shadows,
work their jaws. Soaked and bony, my mother
wraps her arms around the children.
A harvest moon shoves blood through clouds.
A shrill fiddle grinds its own strings.
When I look for my home, another is in its place,
and when I knock on the door, a stranger appears.
Sound rends, like meat from bone.
When the dogs fatten themselves in the Caribbean,
they run in circles until they are giants,
lap it all up. Force it down with their tongues.

(Published in Copper Nickel, Issue 12)
"Texas"
My coronary artery, the Red River, and passing it, through the country of my heart, the Vena Cava, which is the Rio Grande.
The hills of my spleen and gallbladder and stomach are hills my great-grandparents crossed, and the feathers of my capillaries,
Oma wore in her hair. The malleus, incus and staples will flutter from my ears as hummingbirds and the veins of my wrists will burst open as bluebonnets.
Gust of my lungs, the Great Plains. They are still, then swell. And the bronchial pathways, reaching their thousand branches, bringing life to the smallest of places.