Alumni
Waterfront Tower is Alum's Latest Real Estate Success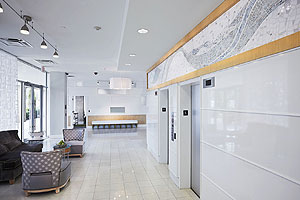 Picture living in Southwest Washington, D.C. the way Marc Duber, BSBA '81, sees it: the Nationals Ballpark is mere blocks away; the Waterfront/SEU Metro stop is right next door; a vastly renovated Arena Stage theater is set to open in October.
Not to mention the proximity to the National Mall – one of D.C.'s crown jewels – and the new retail and office space that's cropping up, including the mixed-use Waterfront Station complex that opened at the end of July.
The Bernstein Companies, where Duber serves as executive vice president and COO, is contributing to the massive redevelopment of the community by way of two 126-apartment buildings and additional density for future development. One of the buildings has been completely redone and converted to a chic condominium known as Waterfront Tower.
Professor Peter Chinloy and a group of master's students in the Real Estate program (MSRE) recently toured the project with Duber.
"It was very exciting to share with them the complexity of the deal, and to be able to show them where it started and where it's at now," Duber said. "I enjoyed it tremendously. Especially since they are master's students, they really understood what was going on."
"The opportunity to view an emerging market along the Southwest Waterfront led by the Arena Stage is unique. We viewed a theater under construction and heard from those who are managing it, and how the performance business operates," said Real Estate Professor Peter Chinloy. "This was a fascinating opportunity for our students and myself, led by Marc Duber and The Bernstein Companies."
Duber knows what it's like to break into the real estate field as a young professional. He interned at The Bernstein Companies prior to his 1981 graduation, and was hired onto the team right out of college.
"It's worked out beautifully for me," he said. "I love what I do, and I love the people I work with. I like the challenge of every day being different than the one before."
Washington, D.C. also holds a unique opportunity for a budding real estate professional, he says, citing the growth of government as a "huge tenant" and the variety of residential, hotel, retail, and commercial space.
"Washington is a wonderful learning center for real estate, and Kogod has the ability to tap local resources that you don't find at a lot of other schools," Duber explained.
"There is a focus on the part of the dean and the real estate department to grow its potential. This is an up-and-coming program at an up-and-coming school."
Duber even met his business partner, Stuart Bernstein, BSBA '60, at Kogod. Bernstein is chairman emeritus of The Bernstein Companies and the former U.S. ambassador to Denmark.
Both men have or are currently serving as members of American University's Board of Trustees and the Kogod Advisory Council.
For more information on Kogod's Real Estate programs, please visit the QuickLinks sidebar.