Alumni
A Business Student Without Borders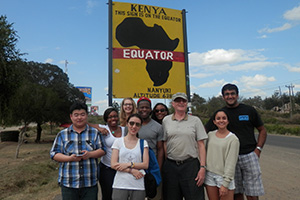 Kogod alumna Tameisha Henry, BSBA '08, is proof that a being a business major can take you far - both in achievement and in sheer distance. 
For the past year and a half, Henry has been living in Kenya as a Peace Corps Volunteer working with small business development
She is one of the many AU alumni who drove the University's recent second-place ranking for producing the most Peace Corps volunteers among medium-sized colleges and universities. Her decision to serve might be a common one on campus, but for Henry, it was a decision she formed from an early age.
Originally from Barbados, Henry met a Peace Corps Volunteer (PCV) while traveling in the Caribbean. "Hearing her talk about the work she was doing and how she felt about the people and the culture left me with a shock and awe feeling," Henry said. "I wanted to do work that could make me feel as good about myself as she did." 
In D.C. she met more returned PCVs who motivated and inspired her to join the Corps post-graduation.
Henry arrived in Kenya in November 2008 - only a few months after the tumultuous and violent aftermath of the 2007 presidential elections.  Currently she is located in Malindi, a coastal town, where she manily works with a drug rehabilitation center helping with administrative improvements, including best practices for office activities, database efficiency, and income generating activities.
"My main projects have surrounded HIV/AIDS," Henry explained. "Last December, a neighboring Peace Corps Volunteer and I held a pre-World AIDS Day event in a nearby village to promote HIV education, prevention and testing." Henry is also working on a 7-day learning camp promoting girl empowerment in April as a part of the Peace Corps' Camp GLOW (Girls Leading Our World).
Her position as a small enterprise development volunteer is one that she was uniquely qualified for as a business student.
"I think one of the best gifts my Kogod education gave me in preparation for the Peace Corps was the breadth of in-class experience," Henry emphasized. "My work here as a business volunteer requires only the most basic of my KSB education but all of the determination, perseverance, creativity, critical thinking, and teamwork required to get through any KSB class."
The Peace Corps decides the location and jobs for PCVs based on what organizations and needs are best suited with the volunteer's skills. Henry says her International Business concentration helped prepare her for working abroad by exposing her to "the realities of business in foreign countries," Henry said. "Working in the villages and towns outside of Nairobi is very different from any standardized procedure outlined in a book, and Kogod's diversity helped me along that learning curve when I arrived here."
Though the realities of working in Kenya are challenging, Henry is more certain than ever that she made the right choice.
"My Peace Corps experience has been worth its weight in gold for the self-awareness I've developed," Henry said. "Every day I live here, life in Kenya becomes my 'normal' and everything else seems foreign now. I love that."
Henry wants to stay in Nairobi, Kenya's capital city, for a year or so after her service concludes before returning to the U.S. for graduate school.