International
Peace Corps Turns 50—and AU Alum Looks Back on Service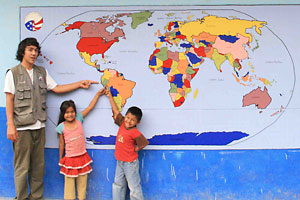 Patrick Sullivan, CAS/BS '08, a summa cum laude science wonk with an impressive record of student volunteer service, had a litany of reasons why he joined the Peace Corps: He wanted to live abroad and learn a language. He wanted to learn more about public health. He liked the grassroots approach to development work. And, at the time, he hadn't decided what he wanted to be when he grew up.
In September 2008, Sullivan left for Peru. His official assignment? Water and sanitation. For 11 weeks he underwent intensive language and job training. And then that inevitable day came when he set off for his new home: the tiny town of Silahuá, population 250, in the northern highlands of Alto Piura. Think 14 to 16 hours by bus from Lima to Piura, the closest city.
"To get to Silahuá, I would take an almost two-hour bus ride from Piura and then a four-hour car ride. In the rainy season, the roads around my site would wash out, and I would have to walk the last 10 miles. When I would have to hike out of my site to the car, it would be in the rain, mud, and dark."
Sullivan was the town's first and only volunteer.
"I was very lonely at first," he recalls. "The nearest volunteer was an hour away by foot (we frequently traveled together), and I had no cell phone or Internet access. Fortunately, I had a very supportive host family and community. Two years later, I didn't want to leave!"
Two years later, too, he can recite a long list of accomplishments, among them: He built 46 pit toilets and a library, improved local water systems, created and led a hand-washing campaign in the preschool and primary school, and collaborated with volunteers in other countries to create an international art exchange book.
Sullivan learned that theorizing about improving the lives of people in places like rural Peru is a lot easier than the reality of creating effective, long-term, and sustainable projects. "Behavior change is especially difficult to implement when individuals, families, and communities have customs and habits that have been passed down for generations."
All volunteers find the experience life changing. Many, like Sullivan, also find a career path. He is headed to medical school in the fall (not sure yet which one) to pursue specialty interests in oncology, orthopedic surgery, and internal medicine. And, of course, global health.
President John F. Kennedy established the Peace Corps by executive order on March 1, 1961. A half century later, more than 200,000 volunteers have served in 139 countries. AU remains actively involved in and committed to the program. Both the School of International Service and the College of Arts and Sciences offer a master's international program (MIP) that combines course work with overseas volunteer service.
And AU ranks fourth among medium schools for the number of Peace Corps volunteers we produce. Currently, 55 alumni are serving around the world, bringing the total to date to 819.
A special exhibit at Bender Library (lower level) highlights the early history of the Peace Corps; it is on loan from the University of Michigan through September 2011.