First Person
Position at Washington Post Makes Student's Role Models Her Colleagues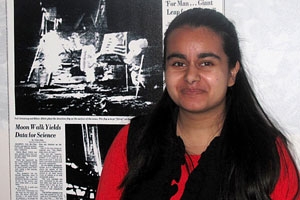 Below is a first person account from Dean's Intern Farah Mohamed about her ongoing internship at the Washington Post.
As I typed up short anecdotes from my latest interview on my iPhone, my fingers tried to rebel. I was sitting on a curb at the corner of 15th Street and Pennsylvania Avenue, where I'd been stationed for Inauguration Day coverage. The president would walk by some seven hours later, but the crowd was already sizable. I was here to observe and tell stories.
Working on four hours of sleep, a dwindling phone battery, and fingers too numb to avoid a battle with autocorrect, I somehow still felt exhilarated by it all. The patriotic music, the stories of people who traveled miles and woke up in the dark just to get a glimpse of the president, and most of all the statement I got to make before every interview: Hi, I'm Farah Mohamed, and I'm a reporter for The Washington Post. It made the early morning commute and the shivering despite six layers of clothing worth it. I was what I'd been working all this time to be: a journalist.
Inauguration Day is only one of the memorable experiences I've had while interning here. 
Day two had me trudging up a hill in Georgetown interviewing District public school principals and Georgetown deans about a joint principal enrichment program.
Since then, I've contributed to stories such as the inauguration article, including two about Montgomery County, Md. (one on the bag tax and another on nightlife). I've tried my hand at obituaries. And I've written about a rare hummingbird.
Being a SOC Dean's Intern for the Metro section is surreal. From the moment I press my ID to the door to enter the office to the time I walk out those same doors, I feel, for lack of a better word, accomplished. I'm an insider at one of the best newspapers, and I'm sitting next to reporters whose bylines I – and countless numbers of others – have been reading for years. There's something inexplicably invaluable about watching -- and partaking in – the whole process. Where else can you hear the last minute interview of a story before it appears, seconds later online and hours later in the hands of the woman sitting next to you on the bus?
Apart from the daily awe, working at The Post has also given me a chance to hone the journalism skills I've developed at AU. The more I write, the more I feel that I'm mastering the nuances of journalism. Here, I'm a "real" journalist and a colleague to my role models. My assignments have taken me to places in Maryland and Virginia that I've never traveled to in my nearly four years at AU. I've learned how to write stories on an iPhone. And I've worked on a form of storytelling that is both trying and compelling: the obit.
To say I'm grateful for this internship would be an understatement. Working here has made me more certain of my career choice and humbled me to no end. It's challenging, but it's also exciting and empowering.
My hands have defrosted from Inauguration Day, but I'd be lying if I didn't say that I'm still in shock. I still catch myself smiling when I introduce myself, when I watch people's reactions, or even when I'm on the Metro knowing someone there could be reading something I'd been a part of.
I can only hope that this will one day be a daily reality and that the shock will subsist into some kind of gratifying immunity. For now, I'm content in being Farah Mohamed of The Washington Post, privy to unparalleled opportunities.