Alumni
Eagle Basketball Season Takes Off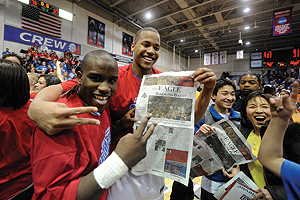 Screaming fans . . . Clawed the Eagle working the stands . . . Cheerleaders chanting the AU fight song . . . students painted in head-to-toe blue . . . That's right, it's basketball season, and we're picking up right where we left off in March. Our starting lineup may look a little different, since all-stars Garrison Carr, KSB/BSBA '09, Derrick Mercer, CAS/BA '09, and Brian Gilmore, KSB/BSBA '09, graduated in May, but the team's scrappy energy and AU pride are still out in full force.

Eagle fans both in D.C. and across the country are still eager to support the home team, and the Office of Alumni Programs has lined up several events to make that happen. Whether to take advantage of a great-value sports event, network with fellow alums, or just show off your latest AU sweatshirt, AU basketball games and watch parties are a great way to get involved with your alma mater.

On Wednesday, December 16, nearly 50 AU alumni and friends will gather in Chicago to watch the AU men's team take on DePaul University with a pre-game reception to get them revved up for the game. Chicago alumni chapter leader Jeff Orschel, SIS/BA '02, notes, "It's exciting to have such a large turnout of AU alumni supporting our basketball team here in Chicago. Having back-to-back appearances in the NCAA tournament has definitely increased alumni spirit and interest in the basketball program, and I am confident this interest will continue to rise."  

And there's more to come! Official Patriot League play starts on January 9 with a match-up against Lehigh. The following basketball events are currently planned for 2010:

February 11: Philadelphia Alumni Chapter's AU vs. Bucknell Watch Party  

February 17: AU vs. Army Pre-Game Party on the Bender Arena Concourse 

February 21: Boston Alumni Chapter's AU vs. Holy Cross Game (at Holy Cross)  

Want to plan a game-watch event in your area? Contact Suzanne Smith at 202-885-5933.  

For those with RCN digital cable service, you can catch the Eagles playing UMBC on December 19. Game coverage begins at 2:00 p.m., with tipoff at 2:05 p.m., but don't miss the Watch Eye on the Eagles pre-game show at 1:30 p.m. RCN cities include:

Metro Washington D.C. (channel 8)
Lehigh Valley (Eastern PA) (channel 4)
New York City (channel 8)
Chicago (channel 34)
Boston (channel 8)


Can't get enough AU basketball? Follow the Eagles on AUHoops.com, an independent blog written by former Blue Crew member, Bill DeBaun, SPA/BA '09.  

For more information about AU basketball and to order your game tickets, visit the Athletics Web site.