In the Community
Intercultural Management Institute Holds 14th Annual Conference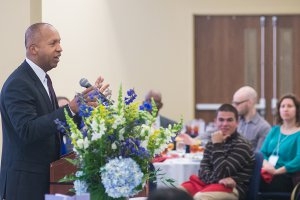 The SIS Intercultural Management Institute (IMI) held its 14th Annual Conference Thursday, March 14 and Friday, March 15. There were 160 attendees at the gathering, which assembles an audience of intercultural relations professionals to share their knowledge and best practices.

IMI Director Robert Kelley credits this group with the continuing influence of the conference.

"The conference owes its success to its attendees, many of whom are the leading thinkers in the field of intercultural relations," he said. "For practitioners, it's a time to reconnect and recharge. Scholars test their ideas and discover new ones, and the students can engage with all of them. By holding this annual conference, IMI is in a privileged position to connect these communities to each other. It's a big win for everybody."

There were 30 panel discussions held over the two days, ranging from "Managing Across Generations: How Management and Parenting Styles can Converge, Conflict and Connect" to "Exploring Bias: Conscious and Unconscious in our Intercultural Interactions."

Founder and Executive Director of the Equal Justice Initiative Bryan A. Stevenson delivered Thursday's keynote speech, titled "Confronting Injustice: Truth, Reconciliation and Identity." The Initiative recently succeeded in winning a ban on life imprisonment without parole sentences imposed on children convicted of most violent crimes in the U.S. and has initiated major anti-poverty and anti-discrimination efforts.

Friday's keynote speech, "Upsetting the Balance: Transforming Ourselves, Transforming Others," was given by Co-Founder and Executive Director of the Intercultural Communication Institute Janet Bennett. In her talk, Bennett discussed reconciling competing views such as personal values versus others' values, or domestic versus global commitments, using anecdotes from her experiences teaching intercultural understanding around the world.

"How people are taught affects how they learn," said Bennett. "It's a social justice issue to be interculturally competent."