International
SOC Hosts International Sustainability Leaders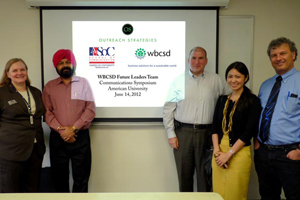 Business leaders from 25 international corporations gathered at American University in early June for a communications and advocacy training symposium led by School of Communication faculty and other communications experts.
SOC, in partnership with the DC-based public affairs firm Outreach Strategies (OS) and the World Business Council for Sustainable Development (WBCSD), hosted the one-day communications workshop for the Future Leaders Team (FLT).
The FLT program is a professional development course sponsored by the WBCSD that focuses on training and advancing the future leaders in corporate sustainability. The 2012 Future Leader Team consists of 25 professionals who have been nominated by their companies to participate in the year-long program. Although the diverse group represents a wide range of industries from 17 countries, the FLT participants are united by a common commitment to corporate sustainability practices.
The communications symposium was organized by Outreach Strategies, which is the agency of record for the WBCSD. OS was founded in 2009 by Tad Segal, SOC/MA '95. Drawing on over 20 years of experience in public affairs, journalism and advocacy, Segal launched the communications firm to promote sustainability and positive environmental outcomes at the national and international levels.
Workshop speakers included SOC faculty members Leonard Steinhorn and Maria Ivancin. Steinhorn provided an overview of communication strategy, examining the core concepts of public communication and advocacy. Ivancin introduced the group to the fundamentals of public opinion research including methodology, audience analysis and message targeting.
The FLT members engaged in discussions with the speakers on how to apply communication and research concepts to messages about sustainability and corporate responsibility.
"The AU community is extremely committed to sustainability," said Steinhorn. "The FLT workshop is a great opportunity for SOC to share our communications expertise with business leaders working to advance this important cause worldwide."
Segal provided FLT members with an overview of the tools and frameworks they can use to analyze their audiences, engage stakeholders and build robust communications platforms, sharing specific case studies associated with environmental issues and change communication.
"Communications and advocacy are at the heart of creating positive and lasting change," Segal said. "Companies like those that take part in the FLT program understand that sustainability must be a core competency for leading businesses. And they also recognize that communications and advocacy play a pivotal role in moving the sustainability agenda forward."
By bringing together communications experts from business and academia, the symposium exposed the FLT members to both the real-world tactics and conceptual strategies of effective communication.
"As a scientist, I really appreciated learning that you can't always persuade with rational facts. I now have a new appreciation for many of the steps involved in a communication, especially for researching your audience and creating simple concise messages," said Edie Sonne Hall, manager of environmental affairs at Weyerhaeuser.
The FLT members will showcase their communications skills in September when they present a series of projects on corporate sustainability at the World Conservation Congress in Jeju, Korea.
Sonne Hall concluded, "We were given some great tools to use both as a group at the World Conservation Congress in Korea and also in our roles communicating scientific information for our companies."