Employment
Marketing Madness offers Students Unique Industry Perspective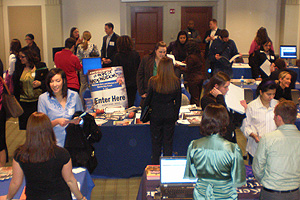 Marketing Madness, sponsored by the Kogod Center for Career Development, kicked off on Monday, March 30 with a panel discussion on the various career paths available within the marketing industry. Executives from start-ups, brand management organizations, and advertising agencies were on-hand to provide their take on the industry, as well as inform students how to prepare themselves for success.

The Marketing Showcase and Networking Fair, on March 31 provided students a unique opportunity to see first-hand the various ways marketing intersects and integrates with all types of business. "I thought it was great to have a targeted fair and that allowed us to speak with actual marketing professionals," said a second year MBA student. "I was impressed with the quality of representatives and I made a lot of contacts with whom I have already been in touch."

Employers were invited to bring case studies of their work, including digital marketing campaigns, market research reports, and marketing collateral to better connect with marketing students.

Mary van de Wiel, CEO of A New Brand Landscape & Co. said, "I was very impressed with the students. They had fire in their belly, a glint in their eye and (were) full of energy and great attitude. Those are some of my key must-haves."

Over 75 undergraduate and graduate students from Kogod, SOC, and SIS attended the Marketing Showcase and Networking Fair. Marketing Madness culminated with a reception that provided a forum for over 30 graduate students to connect with 30 external representatives in attendance.  
Twenty corporate partners participated in Marketing Madness including: A New Brand Landscape & Co., AKQA - DC, AMA - DC Chapter, Arnold Worldwide, Atlantic Media Company, August, Lang & Husak, Carma, Choice Hotels, Claritas, DC Ad Council, Environics Communications, Eye Traffic Media, Fleishman-Hillard, Genius Rocket, Kennedy Center, LM&O Advertising, Marketing General, National Geographic Channel, Northwestern Mutual, Pappas Group, Rosenthal Partners, SENSIS Agency, Sports Today, Starbridge Media Group, Team Services, LLC, Under Armour, Washington Mystics, Watson Wyatt Consulting, WBA Market Research, and Wisechoice Brands.

Marketing Madness was co-sponsored by the Graduate Marketing Club and the Undergraduate Chapter of the American Marketing Association.