Alumni
Building a Successful Career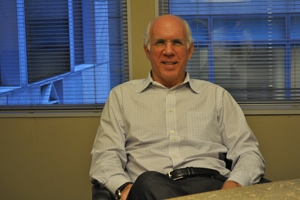 Take a stroll around Washington, D.C., and you're bound to see a building Rick Barnett has touched, whether it's the National Museum of the American Indian or the Kennedy Center or the Department of Transportation headquarters. And thanks in part to him, those buildings are now more secure.
Barnett, MA economics '74, has enjoyed a long, successful career both in commercial real estate, where he is now executive managing director at Savills Studley, specializing in government real estate services, and in the federal government, where he worked for 26 years, including such positions as staff economist and senior professional on building matters on the House Committee on Transportation and Infrastructure.
And in the wake of the bombing of the Alfred P. Murrah Federal Building in Oklahoma City, where Barnett traveled just days after the domestic terrorist attack that killed 168 people, he was instrumental in recommending new security measures in federal buildings that make us all safer.
A Career by the Numbers
In commercial real estate, numbers tell the story of your career. And in Barnett's case, the numbers are big:
6 million square feet: aggregate amount of commercially leased space for deals he has been involved in
1.5 million square feet: size of biggest deal he worked on, the Census Bureau headquarters leasing in Suitland, Maryland
$10 billion: amount of major leasing operations he reviewed while at the General Services Administration
160: number of courthouses whose construction, renovation, and leasing he oversaw while at GSA
In 2002 and 2008, he was recognized by the Washington Business Journal and the Greater Washington Commercial Association of Realtors as part of the team that conducted the year's most successful transactions.
Getting into the Race
At the University of Colorado–Boulder, where Barnett earned a BA in economics in 1969, he was that rarest of rare birds, a Republican. He headed the College Republicans and was always interested in politics, economics, and philosophy. Right out of school he took a decidedly nonpolitical job: he managed a nearby trap and skeet range. But nine months later he was working on Raymond Broderick's unsuccessful campaign for governor of Pennsylvania.
"I literally talked my way into that campaign," Barnett recalls.
In January 1971 he moved to Washington, and within a few weeks he had three job offers. For the next 10 years he was staff economist at the U.S. House of Representatives' Committee on Public Works. Thus began a career in public service during which he also worked at the Appalachian Regional Commission, where he was responsible for prioritizing funding requests for highway development; a couple of tours at GSA, where he was ultimately director of congressional and intergovernmental relations; and the Government Printing Office, where he was chief of staff.
Along the way, in addition to the MA in economics he earned at AU, he also earned an MBA at George Washington University, class of 1986.
His growing expertise in the complex workings of the leasing and development of government buildings also gave him the perfect credentials to work in the private sector, first at Blake Construction's real estate division, and later as director of government relations at Kilpatrick Stockton before joining his present company, Savills Studley, in 2007.
As if he wasn't busy enough after moving to Washington, Barnett was soon in the grips of a new obsession—bicycle racing.
"That became almost a full-time activity," he says. "I spent the next 24 years racing in the senior men's category and later in the master's age category."
He went to the national championships five times and placed three times. These days he still rides, but not competitively.
Making Buildings More Secure
On April 19, 1995, in Oklahoma City, a Ryder rental truck filled with explosives was detonated in front of the Alfred P. Murrah Federal Building. Among the 168 people killed were 19 children under the age of 6, and hundreds of other people were injured.
A couple of days later, Barnett, who was then a senior professional staff member on the House Committee on Transportation and Infrastructure, was on the scene doing advance work in preparation for a site visit by the chairman of the committee, working with the FBI and other security officials to coordinate logistics.
As staff director of the Public Buildings Subcommittee, he helped develop recommendations to combat future threats. As a result of those recommendations, federal buildings now have hardened columns that prevent the kind of pancaking collapse seen at the Murrah building. They are also set back from public thoroughfares. Window film prevents glass fragmentation, and unlike the Murrah building foundation slabs are now also secured from below.
Barnett also oversaw a $10 billion program to fundamentally improve security at more than 160 U.S. courthouses.
"There was common circulation for plaintiffs, defendants, and judges," Barnett says of the situation before the changes. "They were oftentimes riding in the same elevator."
Now, courthouses have "triple circulation" to prevent this, as well as triple H-VAC (heating, ventilation, air-conditioning) to avoid common vents. Federal courthouses also must now have holding cells, sally ports (secure entrances), and more secure parking spaces below grade.
One perk of the job was to sit on the board, as alternate for the committee chairman, of the John F. Kennedy Center for the Performing Arts. The committee oversaw a complete renovation of the center, at a cost of $250 million, and for that staff was afforded the cheap seats at the Kennedy Center Honors. "I met James Bond, sorry, Sean Connery, and Bob Dylan, all in the same evening," Barnett noted.
Keeping Connected
Barnett has kept his connection with AU. Every year he's on campus as part of the Juvenile Diabetes Research Foundation Real Estate Games held at the track and Bender Arena. Every June, some 1,800 participants, all of whom are connected to the Washington-area commercial real estate industry, compete in events such as swimming and sprints to raise money for the foundation. There's an office chair race for the more relaxed weekend warriors. Since the event's founding some 20 years ago by a Studley colleague, more than $7 million has been raised for JDRF.
"I'm amazed and in awe of what's happened at AU since the early '70s," he says of his annual visits. "It's really amazing."