Alumni
Entrepreneur, Global Health Advocate Honored by their Alma Mater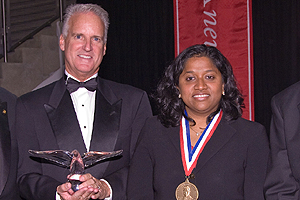 Two accomplished alumni were recently recognized at American University's annual President's Circle dinner for their outstanding service and achievements. The event was held on October 22 at the university's Katzen Arts Center.

School of Communication alumnus Jack Cassell '77, whose father, Stafford H. "Pop" Cassell '36, was a legendary teacher, coach, and vice president at AU, earned the 2009 President's Award for his exemplary service as an AU trustee and benefactor, advisor, and friend to AU Athletics.

Esther Benjamin, who received her master's in international affairs from the School of International Service in 1992 and her master's in applied economics from the College of Arts and Sciences in 1995, was awarded the Cyrus Ansary Medal for her extraordinary accomplishments in public service, her expertise, and dedication to improving human conditions through global development initiatives.

"In Cassell's steadfast commitment to philanthropy and service to his alma mater, and Benjamin's selfless efforts to assist the world's underserved people, we have two shining examples of alumni who epitomize American University's highest ideals of public service and global citizenship," stated President Neil Kerwin, SPA/BA '71. "May they inspire their fellow alumni and our current students to set even higher standards for our future."

Cassell, whose twin brother Stafford Cassell Jr. '77 and mother Carolyn Cassell Harrison '49 also attended AU, is president and CEO of Visual Aids Electronics Corp., an international audiovisual, staging, and simultaneous interpretation business that provides services for the U.S. Department of State, United Nations, and other prestigious organizations.

 "Receiving this award tonight in this particular place has great meaning to me," said Cassell, whose father passed away on campus in 1966. "Unlike most of you, who started here as students, my story at AU started as a child," he remembered.

Past winners of the AU President's Award include former U.S. News & World Report CEO Samuel J. Keker '39; AU Board of Trustees chair and Tower Companies partner Gary Abramson '68, and former Montgomery County, Maryland, elementary school principal and AU trustee Robyn Rafferty Mathias '64.  

Benjamin served on President Obama's national security transition team and was recently appointed director of global operations for the United States Peace Corps.

A native of Sri Lanka, Benjamin told the crowd her roots taught her the value of opportunity, education, and hard work, as well as the importance of family, community, freedom, and service to others.  "I've had the honor of being able to impact issues ranging from humanitarian relief, to child labor, youth development, global education, and other key issues in the world… and all of this was made possible through my AU education," she said.

Previous recipients of the Cyrus Ansary Award include Pacific Theaters chair Michael R. Forman, AU benefactor and real estate executive Robert P. Kogod '62, and former NBA star and human rights activist Kermit A. Washington '73.

This invitation-only annual dinner honors AU's premier donor society, recognizing alumni, parents, faculty, staff, and friends who made a contribution of $1,000 or more during the previous fiscal year.