Business
Kogod Female Faculty Outnumber Most Competitors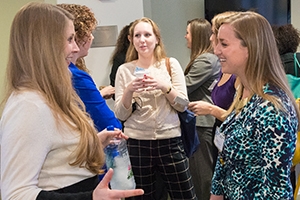 Two.
That's the number of female professors under whom Barbara Bird studied as she earned three degrees at three different schools. Now Bird, chair of the Management Department, is the first female full Professor to rise through the ranks at the Kogod School of Business.
She and her fellow female faculty members make up 32 percent of Kogod's tenure and tenure-track faculty members; nearly double the percentage of female faculty at the top ten MBA programs in the country according to Bloomberg Businessweek.
According to Bloomberg, the top MBA program in the country, the University of Chicago's Booth School of Business, has approximately 15 percent female tenure and tenure-track faculty.
This spring, Kogod promoted three of those female tenure-track faculty members. Wendy Boland and Cristel Russell of the Marketing Department and Valentina Bruno of the Finance and Real Estate Department, rose from Assistant Professor to Associate Professor.
Setting a Standard
Bird began her tenure career at Kogod in 1991, becoming full Professor and department chair in 2012.
"I've seen so much change over the years, both in Kogod and in business in general," she said.
"Notably, [there's been] an increase in the number of female students in my classes and so it only makes sense that our faculty should reflect our student base. AU and Kogod have a great commitment to diversity and that's commendable."
For Boland, who came to Kogod in 2008—direct from her doctoral program at the University of Arizona—the school's commitment to the scholar/teacher model is what sets it apart.
"The school places a lot of value on being a good researcher and being a good teacher," she said. "That's where the focus is, regardless of gender, and I think that sets the example that any person can meet those standards."
Boland also sees the representation of women on Kogod's faculty as another opportunity to expose students to different views.
"As a general rule, women are going to have a different opinion and perspective than men, on practically every subject," she said. "The more perspectives we can give our students will only help them in the long run and that's what we're here for."
To Russell, who also joined Kogod from the University of Arizona, she and her fellow women faculty members are showing what the "modern normal" looks like, in business and beyond.
"These numbers prove the advanced thinking that's going on [here]. I'm so proud to be a part of this way of thinking, especially compared to my own undergraduate experience in France."
Russell says she also makes it a point to show her students that it's possible for professional women to live a balanced life at work and at home.
"I have a fulfilling life outside the classroom and I let my students know that," she said. "I have kids. I teach fitness classes. I have personal interests; I'm a whole person."
Maintaining a healthy work-life balance is also important to Bruno, who joined Kogod in 2007. A mother, Bruno juggles her personal obligations with her academic responsibilities, making her promotion all the sweeter.
"It felt like winning the Champions League," she said. "I guess [Kogod's women faculty show] that Cher got it right in her latest song, 'Tell the truth, this is a woman's world!'"