Student Life
Abroad Fair Offers Opportunities, Answers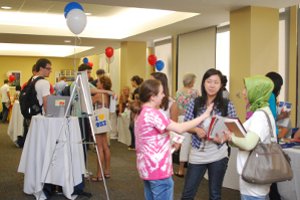 "Would I live in the dorms, or off campus?"
"How is payment arranged?"
"Should I know Arabic before I arrive?"
"Do I need to have a certain GPA?"
All of these questions and many more were asked at the AU Abroad Fair on Thursday, September 3, 2009. Hundreds of undergraduate students milled around Mary Graydon's main floor, clutching freebies, folders, and information about the various programs represented at the fair.  With over thirty tables featuring representatives from all corners of the globe, and AU-sponsored areas explaining about merit awards and financial aid, students explored the options open to them based on their interests and challenges.
Heidi Ashton Yoon, a program manager at the School of International Service (SIS), stressed the importance of taking a semester or year to travel to a new country. "Study abroad is a vital part of any education.  It takes us out of our comfort zone and shows us that there is a world beyond what we learned from our family, friends and books.  Traveling to another country, eating the local food, speaking the native language and adjusting to the nuances of a new culture is really an exercise in self-awareness."
The opportunities Ashton Yoon mentions are available in the multitude of SIS offerings, including dual degree programs (in which a student earns one degree from SIS and another from the partner institution) and semester and summer abroad programs from all over the world for graduate and undergraduate students. Factor in the programs from the other schools at AU, and the offerings multiply considerably.
As diverse as the internship, work, and learning possibilities around Washington, D.C. are, students appreciate the opportunities to try new things. "I want to broaden my horizons," explained Val Carter, SIS/BA '12, "and meet people I normally wouldn't get to meet." International programs assistant Jeannie Khouri echoes this statement. "In addition to coursework or research that fits their academic interests and program of study at AU, many [students] are seeking cross-cultural, linguistic, professional and general life experience abroad, often in a specific region or location."

One student at the fair is already experiencing the whirlwind of excitement and emotion that comes from studying abroad. 23-year-old Timo Müller is spending the semester at AU from University College Maastricht in the Netherlands.
"I suffered severe cultural shock," Müller laughed, describing his first two weeks in the United States. Now that he's adjusted, he notes that he's "seeing the world from different perspectives and making new friends." By living off-campus and participating in mainstream AU activities, Müller is adjusting to college life in his temporary home.
"For me, it's mental growth: devoting my time to my studies, and spending time in DC is also part of my studies."