Organization Development Scholar Ed Schein Offer Insights at AU/NTL's Segal-Seashore Fellowship Fund Conference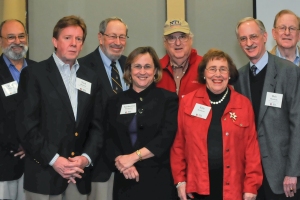 Ed Schein, a leading scholar in the fields of organizational culture, leadership, and process consultation, delivered the keynote address at the annual Segal-Seashore Fellowship Fund Conference and Awards Ceremony on March 28, hosted by American University's School of Public Affairs and the AU/NTL Program.
Schein, professor emeritus at MIT's Sloan School of Management, spoke on the topic of his recently published work, Helping: How to Offer, Give, and Receive Help (Berrett-Koehler, 2009.) Schein also discussed the legacy of social psychologist Kurt Lewin.
Other speakers included Neil Kerwin, AU president and original AU/NTL faculty member, who spoke on organizational dynamics in his experience as provost and president of the university. Deborah Plummer, a prominent psychologist and consultant specializing in diversity management, discussed organization development in a 2.0 world.
The conference, "Leadership and Change in Transformative Times," honored this year's Segal-Seashore Fellows: Katerine Kusha, Veronica Harris, and Ann Caton, students in AU/NTL's master's degree program. Proceeds from the conference benefited the Segal-Seashore Fellowship Fund, named for program founders and pioneers in the field, Morley Segal and Edie Seashore.
Founded in 1980, AU/NTL is a collaborative program between American University's School of Public Affairs and the world-renowned National Training Laboratory Institute. More than 1,100 professionals have received the AU/NTL Master of Science in Organization Development. AU/NTL graduates work in multinational corporations, consulting firms, nonprofits, international nongovernmental organizations, government agencies and private consulting practice.
Photo courtesy of Terrance Moran.