Achievements
Running Man
Time to push the pace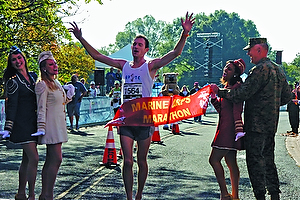 More speed; that's what was racing through Andrew Dumm's mind halfway through the 33rd annual Marine Corps Marathon in Washington, D.C. As the 23-year-old SIS grad student ran through a lonely, spectatorless stretch near Hains Point, he made a decision to accelerate.
"I wanted to thin the group out and bring one or two guys along with me, but they didn't respond," he said two days after the first marathon of his life. "I found myself in the lead, and once the race was mine, it was mine to lose."
Two hours and twenty-two minutes after Dumm started the October 28 race, he still hadn't lost it. He crossed the finish line before any of the other 18,000-plus participants, becoming the first male Marine Corps champ since 1987 to triumph in his inaugural marathon.
Among those trailing Dumm were his older brother, Brian, who finished fifth, and his father, Ken, who in his seventh Marine Corps turned in a personal best time. Andrew's plan was to run with Brian and not concern himself with winning, but that blueprint fell apart after he separated from his brother about six miles in.
At Hains Point, 13 miles from both the start and finish, things got much more serious.
"If you talk to the other runners, anybody who goes out on his own early on is running a lonely race," said race director Rick Nealis. "I'm sure the pack was saying rookie mistake, he's gonna tire, he's gonna fade, and we're gonna catch him."
No one ever did. Dumm crossed the finish line in Virginia near the Iwo Jima memorial one minute and ten seconds ahead of his closest competitor.