Alumni
Steinberg Twins Are Two of a Kind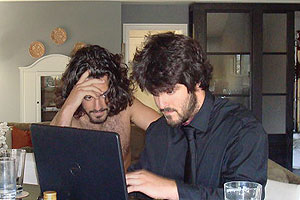 Three weeks after graduating from Kogod, Danny Steinberg, BSBA '10, began competing on one of the biggest poker stages in the world.
He's sitting next to the biggest names in the game along with thousands of other competitors - including Max, his identical twin brother - with a multi-million dollar prize on the line.
After several weeks of smaller events, the most rewarding tournament of the World Series of Poker (WSOP) has begun: the main event.
Danny and Max, who also studied at Kogod, are both trying their hands at the $10,000 buy-in no-limits Texas Hold 'em main tournament that crowns the unofficial World Champion of Poker.
The brothers are putting years of perfecting their poker faces to the test as they try to cash in, Vegas-style, on their first visit to the WSOP. This is the first year the twins were age-eligible to compete.
Max (who left AU in 2008 to play poker full-time) won $352,916 and placed second in a smaller no-limits Texas Hold 'em tournament in June.
"Unfortunately I have not had much success in a tournament yet," his brother Danny said of the WSOP. "It's frustrating... Even though poker is predominantly a game of skill, luck is still a big factor, so maybe it will turn around soon."
Although Danny has won a modest amount in the WSOP so far, he's found most of his poker success online. In fact, he was nominated by the website pokertableratings.com as one of the top ten online poker players in the world.
Both brothers have an affinity for playing online and regularly contribute to poker forums and strategy discussions through their shared blog, "Suited Aces."
"I'll continue to play mainly online," Max said. "Maybe I'll play a few more big tournaments... but I think online poker is still the most profitable poker for me."
Looking beyond the virtual tables, Max plans to invest his WSOP winnings in real estate in the brothers' home state of Iowa.
After his run in Vegas, Danny will return to Iowa to play poker full-time with a business career waiting in the wings.
"I don't know how long I'm going to keep this for a living," he said. "Even though it's a fun and high paying job, doing something entrepreneurial is a really exciting idea to me."
Danny specialized in finance while at Kogod and says that his knowledge from the game translated in the classroom.
"I learned a lot about finance from playing poker – concepts of variance, ROI, theory," he explained. "I feel like my skills would translate really well to [investment banking]."
Max says that, because of poker, he feels more prepared for his future than ever.
"When I went to American for a few semesters I wasn't ready to work as hard as I needed to," Max said.
"Now, having worked hard in poker I've come to realize that if I'm going to succeed in anything, I will need to put in the hours."