Arts and Culture
Orchestra Concludes Season with Mozart, Tchaikovsky, Puccini Works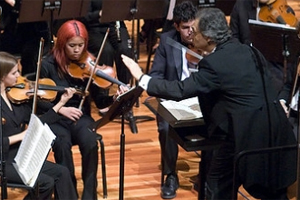 American University's Symphony Orchestra concludes its 2008–2009 season with performances of works by Mozart, Tchaikovsky, and other composers at 8 p.m. Saturday, April 25, and 3 p.m. Sunday, April 26, in the Abramson Family Recital Hall at the university's Katzen Arts Center. 

Tickets are $15 for the general public, $10 for members of the AU community, and $5 for students.

As part of their prize for winning the 2008–2009 Concerto and Aria Competition, student sopranos Jennifer Corey and S. Elizabeth H. Zito will perform with the orchestra.

The competition, which celebrates the talent of AU's student musicians, is held annually by the Department of Performing Arts and is open to all AU students.    

Under the direction of conductor Jesus Manuel Berard, the orchestra will perform Giacomo Puccini's "O mio babbino caro" from Gianni Schicchi and Wolfgang Amadeus Mozart's "S'altro che lagrime" from La clemenza di Tito.

The program will conclude with Pyotr Ilyich Tchaikovsky's Symphony No. 4 in F Minor, Op. 36.

The orchestra is made up of more than 60 accomplished members from the entire AU community—undergraduate and graduate music majors and non-music majors from each school at AU, music and non-music faculty and staff, and members of the Washington, D.C., community.

 Jesus Manuel Berard is the director of orchestral activities at AU. As a guest conductor, he has worked with many ensembles and organizations.

Berard is also the music director and conductor of the 48-year-old D.C. Youth Orchestra, which performs regularly at the Kennedy Center. He is the artistic director and conductor of the Peconic Chamber Orchestra in New York.