On Campus
Employers, Students Come Together at Accounting Day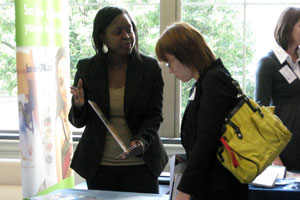 Almost one hundred students attended Kogod's annual Accounting Day on September 9 to explore career opportunities within the accounting industry.
The event kicked off with a panel of employers who provided first-hand accounts of the culture at various accounting firms, big and small.  Panelists also shared general tips on how to land the ideal accounting job.
"Much like a freshman high school student aims for Ivy League colleges, accounting students are aiming for the Big Four when first exposed to the industry," said senior Julia Moon.  "However, the Big Four are not a good fit for every student." 
Following the panel, students and employers mingled at a career fair and reception.  Public, private, government, and nonprofit firms were all in attendance for networking opportunities; recent Kogod alumni represented many of the firms. 
During the fair, Accounting Club President Sarah Snyderman and her fellow club members collected student resumes for employers and recruited new club members. 
"I think it's great that we can get so many students and companies to interact," said Snyderman, who has accepted a position with Vienna, Va.-based firm Beers +Cutler PLLC. She plans to begin work following her May 2010 graduation. 
Additionally, the Greater Washington Society of CPAs sponsored a table for Young & Emerging Accountants in support of a nationwide effort to encourage young workers to join the industry.  
The event was hosted by the Kogod Center for Career Development and cosponsored by the Accounting Club.