Communications
MBA Requirement Reflects Emphasis on Effective Communication Skills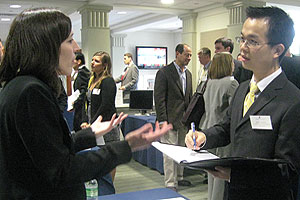 How much is a revolutionary business idea worth if it's not communicated correctly to potential investors?
What about a marketing campaign that offends its target audience – how should company representatives reach out to their customers to minimize damage?
As companies from Comcast to PepsiCo have discovered, the costs of miscommunication in the digital age can be massive.
To succeed in today's global business environment, graduates must possess superior communications skills. That's why a business communications course became part of the required MBA core curriculum beginning this fall. 
"Recruiters are looking beyond just mastering the functional areas," said Bonnie Auslander, director of the Center for Business Communications (CBC). "Today, communication skills coupled with technical skills get you the job and get you promoted."
Kogod's 1-credit business communications course is team-taught by Auslander and Nancy Sachs, a new executive-in-residence and associate director of the CBC. The two designed the course assignments to develop a comprehensive skills set in writing and public speaking. And the focus on workplace communication prepares students for career fairs, summer internships, and jobs. 
"I really enjoyed learning how to deliver a strong and targeted message," said first year MBA student Andrea Kayal. "The class also helped strengthen our presentation skills, allowing us to feel more comfortable in front of an audience."
The business communications course consists of lectures, guest speakers, small group sessions, and a personal coaching session with professional staff from the CBC. Students will receive critiques from their peers and faculty; and video recordings allow students to view and critique their own work as well. During the personal coaching session, students get feedback on their final class portfolio and self-assessment. 
Editor's note: Interested in what the Center is up to? Check out the Better Biz Comm blog or look for Twitter updates.